Coast Regional Coordinator demands weekly drug peddlers report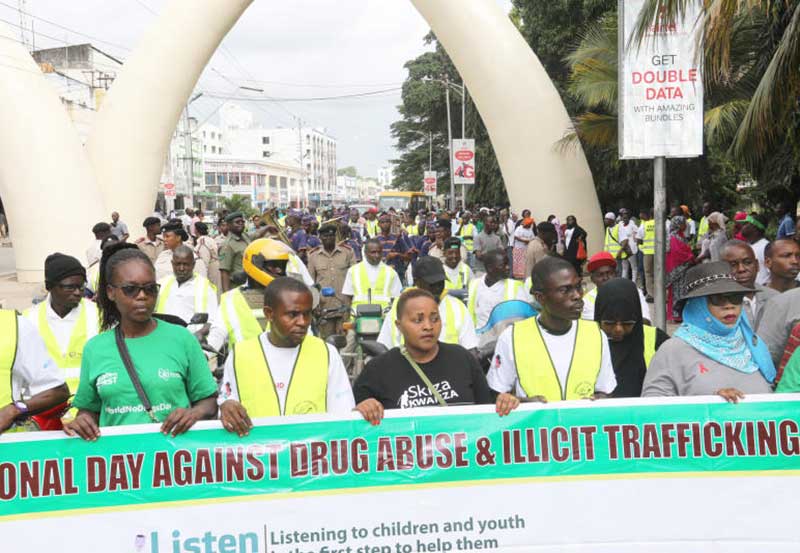 Coast Regional Coordinator Benard Lemparamarai has ordered the police in areas prone to drugs to submit weekly reports of drug peddlers arrested and status of their cases.
The order was directed to Officer Commanding Stations and Assistant County Commissioners in Kisauni, Bombolulu, Bamburi, Kilifi, Watamu, Mnarani and Malindi after a public outcry that the police were protecting drug peddlers.
Speaking during the International Day Against Drug Abuse and Illicit Trafficking celebrations, in Mombasa yesterday, Mr Lemparamarai said some officers were reported to have been compromised by drug dealers.
He warned that such officers would be charged alongside drug peddlers.
"It is the work of the police and other agencies to enforce laws that are there. We use one standard act where drugs are involved. The police arrest people with bhang, heroin and cocaine and later say they were found loitering, drunk and disorderly," said Lemparamarai.
He added: If you are a policeman doing that, then there will be no distinction between you and a drug peddler. You are a criminal, a thug and a killer of the children of this country.
The regional coordinator said all drug dealers arrested should be arraigned in court and warned police officers against drafting defective charge sheets with offences that carry lesser penalties.
"Police are preparing weak charge sheets to defeat the course of justice. When a drug peddler is arrested with heroin or cocaine, they state that he was found with illicit brew, and that is unacceptable," he said.
Lemparamarai said part of the information required was personal details of drug dealers and property they owned.
"We want to get the full information, including where they stay. If they have a ship, we shall blow it up and we shall seize their houses and cars as Government property. We will not accept our children to be messed up. We are losing generations after generations," he said.
Nacada Chairman Julius Gethire said they would work with all leaders at the grassroots to fight the drugs menace.