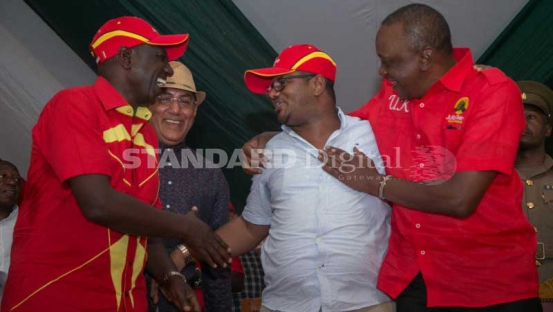 The latest political defections at the Coast have put the Opposition's grip on the region to a test ahead of the repeat presidential election.
President Uhuru Kenyatta and his deputy William Ruto on Monday stormed the region in a series of political rallies that culminated in defections by leaders allied to the National Super Alliance (NASA) to the ruling Jubilee Party, which is determined to solidify its support base across the country.
Former Mombasa Senator and Wiper Secretary General Hassan Omar and ex-Taita Taveta Governor John Mruttu are the latest political heavyweights to join Jubilee.
Mr Mruttu, who unsuccessfully defended his seat as an independent candidate in the August 8 polls after defecting from Opposition leader Raila Odinga's Orange Democratic Movement (ODM), yesterday backed President Uhuru's re-election.
"I have come here to announce that I will vote for the President and seek more support for the Head of State," said Mruttu.
"For so long our politics was guided by feelings. We have stopped being led by feelings and we have taken stock of our situation and we are better off with Jubilee."
He said the Opposition, which he previously was part of, specialised in propaganda and does not appreciate those who solve problems through "real actions".
"The problems at the Coast started a long time before 2013. What happened in 2013 is that President Kenyatta's government started solving those problems," said Mruttu.
There were speculations yesterday that Nyali MP Mohammed Ali was also planning to ditch the Opposition after he appeared in a Jubilee rally.
But the former TV journalist clarified he had not decamped but had just accompanied the President as the host MP.
Political formations
"I chose to attend precisely because of the point we are at in this country today. Both political formations - NASA and Jubilee - have, through their actions, removed any possibility for negotiation on the best way forward for our country.
"So I welcomed the President to my constituency to remind him of that, just as I will remind the former Prime Minister should I get the opportunity to do so," explained Ali in a Facebook post.
Ali further wrote that the lives of people -Kenya's soul- were of far greater importance than whatever enmity the two presidential candidates and their parties seem to have for one another.
He was elected on an Independent ticket but has been allied to the Opposition coalition.
He said he would work with anybody whose interest is to support the constituency's social and economic growth.
Mr Omar also declared support for Uhuru's quest for a second term, citing frustrations in the opposition camp.
"It is not a diversion of what I stand for but a change of tactic," said Omar. "We cannot have a situation where Joho is Mombasa governor and Raila is the president; never."
Mr Omar was once a major critic of the Jubilee regime, accusing it of runaway graft.
And when he decided to join the ruling outfit, it baffled many.
"Hassan Omar's defection has surprised many who believed in his quest for justice and social rights. Historians will have a lot to say," Makueni Senator Mutula Kilonzo Jnr said.
"In politics, perception is key as it has powers of influencing voting patterns to voters who have no strong conviction about a political party."
But ODM Director of Elections Junet Mohammed said the outfit was not shaken by the exodus, describing the leaders as poll losers trying to fit in as they try to deal with their losses.
Transferring votes
Mr Mohammed said the leaders would transfer no votes from NASA to Jubilee, arguing the votes they garnered were as a result of them being in the Opposition camp.
"Those who voted them in the August polls are NASA supporters and they are not moving with them," said Mohamed.
"You see, when somebody loses a seat they have to find how to fix themselves somewhere and we are not taking any offence. But it should be clear their defection has no political impact," he said.
"They are transferring no vote to Jubilee. Some of them were voted on the basis that they were in NASA. Otherwise they have no following of their own," he added.
In 2013, the region had most of its leaders elected under ODM, but this is fast changing after Jubilee Party won some seats, including that of Kwale governor.