Governor Amason Kingi upbeat as Jubilee and three rivals eye his seat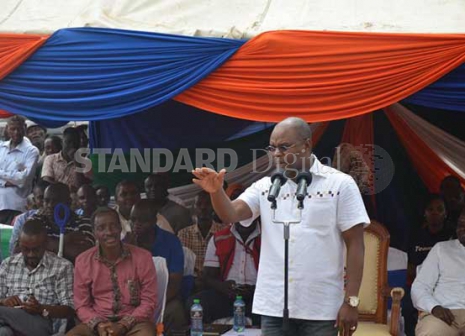 The Kilifi gubernatorial race is heating up with three people having declared their interests to unseat Governor Amason Kingi.
However, Mr Kingi exudes confidence of retaining his seat, pointing to his development record in the health, roads and water sectors. He says despite low allocations from the national government, his administration has achieved great strides, a fact he says will be confirmed by voters on August 8.
Kingi also believes the Jubilee Party (JP), which is fronting Kilifi North MP Gideon Mung'aro for the seat, is "an enemy of devolution and will also be rejected for resisting a comprehensive solution to historical land injustices at the Coast".
Besides Mung'aro, former Labour Cabinet Secretary Kazungu Kambi of Kadu-Asili and Pwani University lecturer Gabriel Katana, who is yet to announce his new party after ditching Kadu Asili, are also in the race.
Although Kambi entered the race late last year, he is not a newcomer in Kilifi politics, having served as Kaloleni MP and later as Labour Cabinet Secretary. He has already caused anxiety after laying his elaborate campaign network in all seven constituencies of Kaloleni, Ganze, Malindi, Kilifi North, Kilifi South, Rabai and Magarini.
Governor Kingi has weathered political storms, including corruption allegations in the county government and alleged irregular acquisition of his official residence, which he has vehemently discounted.
His critics, including Mung'aro and MPs allied to him like Peter Shehe of Ganze, have also had to deal with corruption allegations either over land transactions or the Constituency Development Fund (CDF).
ODM's win in the March 7, 2016 Malindi parliamentary by-election, was a major score for the governor, who has established himself alongside his Mombasa counterpart Hassan Joho as leading critics of the Jubilee regime and allies of ODM party leader Raila Odinga.
Like Joho, Kingi has been battled by the State.
During his visit to Mariakani two weeks ago, Deputy President William Ruto accused the Kilifi administration of embezzling county funds, claiming the residents do not have access to clean water and the region is still underdeveloped four years after devolution.
Misusing funds
"Kilifi county government is allocated Sh9.6 billion annually, but there is no impact on the ground. It means somebody is misusing your funds," Ruto said as he received Kaloleni parliamentary aspirant Kitsao Ngowa who ditched NASA for Jubilee.
The DP said Jubilee has penetrated Kilifi County after it launched a number of projects, including the construction of Mariakani-Bamba, Malindi-Salagate and Mariakani-Mavueni roads.
Kingi dismissed Ruto's claims as fiction and propaganda, adding that most projects claimed by the DP and the national government are actually county projects. He also alleged that claims the national government has equipped local hospitals are fictitious.
The defection of Kilifi deputy governor Kennedy Kamto to Jubilee last week appeared to be part of JP campaign to fight Kingi and NASA.
Mung'aro, who defected from ODM together with Idd, has also portrayed Kingi as a stooge of Governor Joho and claimed credit for all projects being implemented by the national government across the Coast region.
"Jubilee has achieved touchable results in the construction of roads, addressing land problems, equipping hospitals and extension of water to various parts of the Coast region," Mung'aro told residents recently.
Kingi in turn accuses Mung'aro of being an "agent of enemies of devolution who have conspired to marginalise our region for decades".
The governor enjoys the support of most MCAs, Senator Stewart Madzayo, Woman Representative Aisha Jumwa, Malindi MP Willy Mtengo and Rabai MP William Kamoti.
Like Mung'aro, Kambi is a newcomer in the governor's contest, but the former CS is seen to have a financial muscle and mobilisation skills to propel his campaign and Kadu Asili itself. He has adapted middle-line politics, attacking both county and national governments over alleged failure to improve the lives of Kilifi residents and asking voters to go for an alternative side.
"Whether NASA or Jubilee forms the next government, the most important thing is to change Kilifi county leaders and address the problems facing us," Kambi says.
Prof Katana is facing Kingi for the second time, having come third with 37,346 votes in 2013.
He claims the people of Kilifi are yet to enjoy the benefits of devolution, citing frequent, understaffed health facilities, poor roads and lack of an effective bursary fund to support education of children from poor families.
"There is no accountability in the management of funds. There are funds for women empowerment but they are not used well. The county government has adopted a rescue-funeral style of management. There is no proper intensive care unit or operating threatre in Kilifi County," says Katana.