Mwatate police impound 180 drums of illegal ethanol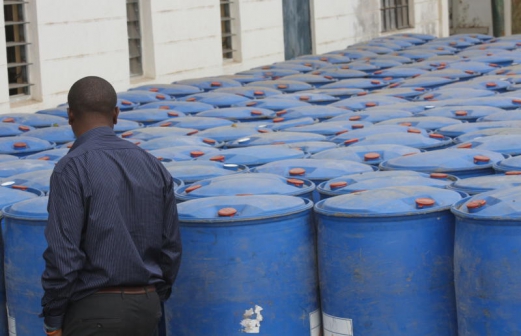 Police in Mwatate have seized 45,000 litres of ethanol alleged to be imported from Tanzania.
Acting on a tip, police at Mwatate Divisional Police Headquarters along the Taveta-Mwatate road flagged down two trucks and found 180 drums of the flammable liquid hidden under a consignment of livestock skins.
A driver of one of the lorries was arrested while three suspects escaped.
Questions emerged on how the trucks passed through several other police roadblocks along the highway without detection.
And there was an altercation between police officers from Mwatate and those from the neigbouring Taveta sub-county.
According to a policeman who sought anonymity, a senior officer from Taveta wanted the consignment moved to either Taveta or Voi police stations. But his junior colleagues defied him and detained the trucks.
Mwatate OCPD Mathias Ondieki said investigations into the incident were going on.