Kwale police detain man described as IT and surveillance specialist for MRC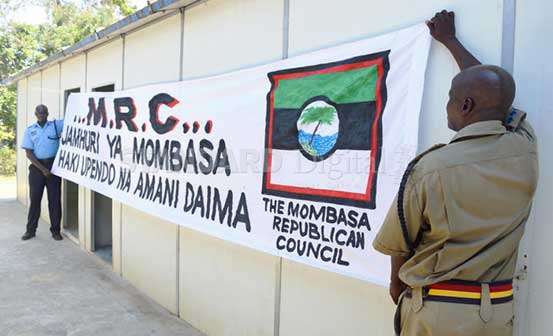 KWALE: Police have arrested a man suspected to be an IT and surveillance expert for the outlawed Mombasa Republican Council (MRC).
Athuman Mohammed Mangale, 45, was arrested in Lunga Lunga on Tuesday by Msambweni police while on his way to Tanzania.
"We recovered a laptop, a phone and upon inspecting the phone we discovered unprinted (portraits of) cards of MRC in the phone. We did a search at his house in Bongwe and discovered many items used to advance policies of MRC," said Msambweni OCPD Joseph Omijah yesterday.
Police reports indicated that on MRC's hierarchy, Mr Mangale is the Msambweni branch secretary in Kwale.
"This is the person behind the printing of MRC cards as he had laminating papers, machine for cutting, other write-ups and a list of membership of MRC, and CDs used to advocate issues of MRC," said Omijah.
Some of the cards recovered from the suspect bear a passport photo of MRC leader Omar Mwamnuadzi and sell for Sh100 to Sh1,000 each.
Police said they received on a tip off when they visited Markaz Mosque in Diani on Saturday to arrest suspected members who were meeting.
"We had information that MRC members were meeting at Markaz Mosque within Ukunda and we sent our officers who assisted in monitoring and as we were moving in to surround the mosque, they got wind and escaped but luckily we got photos of those who were in the meeting," said the OCPD adding that the photographs were of the MRC "cabinet" and also a list of 30 suspected branch officials.
MRC came into the limelight after it advocated the secession of the coastal region from Kenya.
The suspect had documents indicating he was born in Zanzibar, which also has a separatist movement, but has posed as a Kenyan for long. Police said he had used his dual identity to sneak in and out of the country to pursue a separatist agenda.
The suspect also holds a Kenyan identity card and passport showing he is a Kenyan born in Bongwe, Kwale.
In 2012, a court in Mombasa lifted a ban on MRC imposed by the Government in 2009.
The court ruling that overturned the ban allowed MRC to register and operate within Kenyan laws but added that the group should neither incite war and insurrection nor preach secession. MRC has since tried and failed to register as a society.