Destruction of illegally imported goods worth Sh344 million starts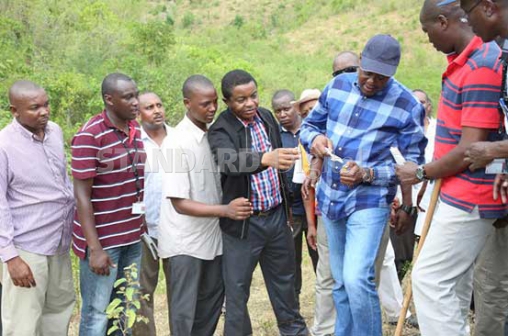 The Kenya Revenue Authority (KRA) yesterday began the destruction of 153 containers of assorted contraband goods worth Sh344 million in Mombasa.
Officials indicated that yesterday's operation, which was witnessed by President Uhuru Kenyatta, was one of Kenya's largest destruction of illegal goods since independence.
KRA said the consignment included 39 containers of sugar worth Sh56 million, 64 containers of ethanol worth Sh288 million and 50 containers of condemned rice. The first batch was destroyed at Mwakirunge dumping site in Kisauni, Mombasa.
Yesterday KRA said it had planned to destroy eight containers of sugar, 13 containers of ethanol and 10 similar boxes of rice but it faced hiccups over the mode of destruction. By last evening only two containers of sugar and one of Ethanol had been destroyed.
President Kenyatta directed the investigating authorities to hasten the investigation on the individuals behind the illegal imports that were destined for the local market.
"I will personally monitor the destruction of these goods. People should understand that we do not entertain this business. We also want action taken against the importers," Uhuru added.
KRA Commissioner General John Njiraini said sugar and ethanol, cumulatively worth Sh344 million, was illegally imported and disguised as building material and furniture. The sugar was impounded at various container freight stations-focus, while the ethanol was seized at the port, officials from KRA, the Directorate of Criminal Investigations and the Ethics and Anti-Corruption Commission said.
The State did not disclose the importers of the sugar.
"The process of destroying the consignment could take a week because of the nature of the goods we are dealing with. We will combine several strategies including stripping the sugar and dumping it into the ocean," Mr Njiraini said.
State officials said the ethanol was allegedly imported by unlicensed manufacturers who were not named.
"The ethanol was disguised as tiles and base oil. Ethanol and sugar are both restricted items that should only be imported by bona fide importers," he added.