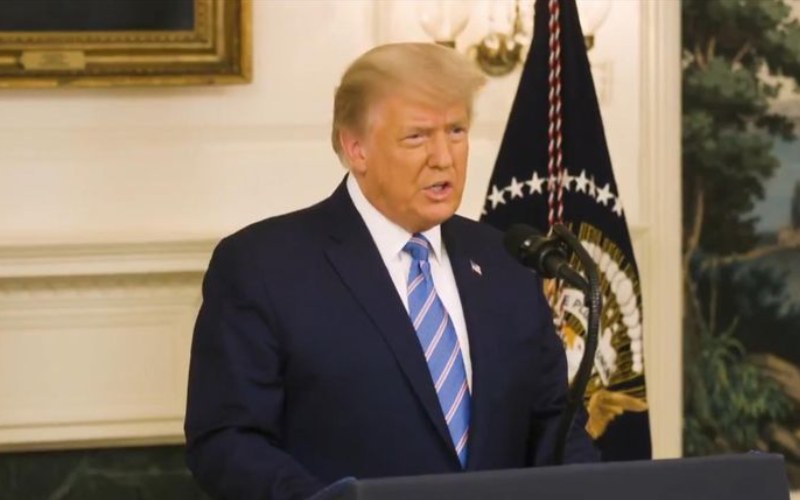 It has been a long or short four years depending on how traumatised you were by the ripples of what was happening across the Atlantic during Donald Trump's reign.
But take heart: on Wednesday, the office will leave Trump, and there are lessons our elected leaders and we, the voters, can learn. Thanks to strong institutions, and adherence to the constitution, Trump does not have to leave office, the office will leave him — and those who hated him will continue doing so. Those who loved him will probably stop considering that some of them voted for his second impeachment early in the week.
That too should be a lesson to our politicians who create and nurture zealots without imagining that power and office can leave them. They do that because they know institutions that can keep them in check are weak.
It is easy to dismiss US leadership and say we should not be bothered by what happens there, but policy decisions they make affect Kenyans at different levels of the economy. We can also say Kenya's destiny should not be tied to decisions made by a leader of a country several oceans away, but apart from the fact that we live in a global village, our choice of leaders predisposes us towards dependence.
They weaken our institutions to suit their selfish interests, they lie to us and we gladly elect them. They fight and blame one another and we take sides, yet they are in the same team of thieves.
Read More
That said, we have to take responsibility and admit that we get numbed by their noises, divisive lies but we sit back when they are weakening institutions and creating loopholes to squander public goodwill and public funds.
For long, we believed American voters are wise. But from the events in the US from the time they held their elections in November 2020, we now know that just like us, they swallow lies, make the worst decisions and defend their bad choices through acts of violence.
However, there is a difference. When institutions are strong, it is not easy for a leader to manipulate governance institutions or arms to their favour, no matter the number of zealots in their cult. The tragedy within our borders is that we have no values, only zealots and poverty-ridden sycophants, and institutions of checks of balances have deliberately been weakened. Our elected representatives and intellectuals are corrupt and can be bribed through underhand deals to forget their oversight roles and favour their benefactors.
For four years, the world watched as Trump trashed almost every rule of humanness, decorum and tradition, and people high on his words cheered him on. His opponents tried every strategy and trick in the book of politics and good governance, but like John Gotti, the late mafia don, he was the Teflon Don — nothing could stick on him.
He saw himself as a victim, spewed half-truths and conspiracy theories and saw enemies everywhere like a wheelbarrow-peddling Kenyan politician. He sowed hatred, practised dog-whistle racism and never took responsibility for his deplorable actions. Of course, his actions and the deep divisions we have come to learn exist in the US were a result of a growing discord that started before he ran for office. Certain people felt their voices were being drowned out, and they needed a saviour, a person to amplify their voices.
Then Trump came along, and he spoke their garbled language. Just like Kenyan politicians, he exploited that festering wound. He promised to heal it, but caused many heartaches in the US and in other places such as Kenya because his inward-looking policies and narcissistic attitude affected many.
It would be wrong though, to blame him for Kenya's poor economy and quagmire of corruption and weakened institutions. Kenya's corruption networks are home-grown, and resources from the US have been getting diverted to individuals' and private entities' banks accounts. That is why the ripple effects of Trump's policies of reducing assistance, because there was little accountability, affected the most vulnerable.
To use a tired phrase, when America sneezes, the world catches a cold, and no matter how much we try to shake off the yoke of dependence and claim that we must be our own people, we cannot fail to appreciate the power of the Globocop, the narcissist world bully that the US is.
We can shout the loudest about looking East and say all bad things about capitalism and the US' leechlike attitude, but at the end of every financial year, we will pander to its institutions or those headquartered there — because even our China loans are denominated in US dollars and not renminbi.
That written, Kenya has hundreds of Trumps: selfish, divisive, corrupt and deplorable politicians who care little about the feelings of others. Our elected representatives are warmongers and conspiracy theorists who listen to voices in their heads, then feed us the lies, noise, and no matter how well educated we are, we embrace all that and fight one another.
Their dangerous moves can be stopped just like Trump's were. For that to happen, we must have strong governance institutions that work and a citizenry that adheres to the constitution. But can our corrupt selves, the zealots that we are, achieve that?
-The writer is an editor at The Standard. @mqhlay