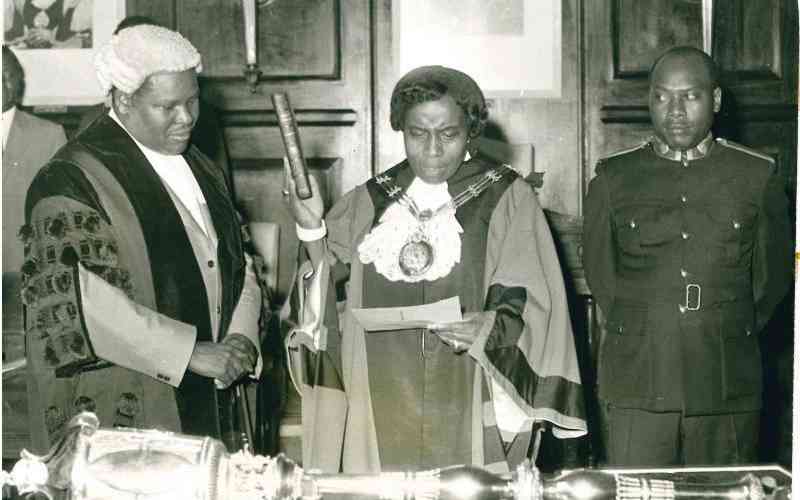 There was a time a foreign dignitary to Jomo Kenyatta's State House could wonder how connected the President's family was well represented within the high echelons of power. Arriving at the Embakasi airport (now JKIA), he would be received by Foreign Minister Njoroge Mungai and Nairobi Mayor Margaret Wambui Kenyatta.
After the short journey to State House, he would meet Mzee Kenyatta in the presence of his wife Mama Ngina Kenyatta, Dr Mungai, Ms Kenyatta the mayor, Office of the President Minister Mbiyu Koinange who would have most likely tagged his assistant minister Peter Muigai Kenyatta. The 1960s and 1970s were the heydays of the Kenyatta clan. The kin straddled the political scene as a colossus.
Dr Mungai was MP for Dagoreti for most of President Kenyatta's term while Koinange, known in informal circles as Jomo's Kissinger, equally served in Kiambaa. Mzee Kenyatta told Koinange's critics that the minister only needed his and Mama Ngina's vote to keep the Kiambaa parliamentary seat. Kenyatta's oldest child and son with his first wife Grace Wahu, Peter Muigai, was MP for Juja between 1969 and 1979. Ms Kenyatta was Nairobi Mayor between 1970 to 1976 and Kenya's Permanent Representative to the UN 1976 to 1986. She was thereafter appointed as a Commissioner with the Electoral Commission of Kenya from 1992 to 2002.
The Kenyatta clan remained influential over the years even after Jomo's death in 1978 and the exit of Koinange from elective politics in 1979. Koinange died in 1981. Wambui Kenyatta was still Kenya's representative to the UN, Dr Njoroge Mungai was still in and out of parliament and newcomer Ngengi Muigai had inherited his uncle's Gatundu seat. Another relative Andrew Ngumba had served as Nairobi mayor and later became Mathare MP. Later on, discharged former Catholic priest George Muhoho - Mama Ngina's brother - would retake the Muigai's Juja parliamentary seat between 1983-1991. He was in the group that resigned with Mwai Kibaki to launch the Democratic Party (DP). The Kenyatta kin only parliamentarian between 1992 and 2001 as Central Kenya made a total shutdown of Moi's government was Beth Mugo as Daggoretti MP on DP ticket.
After the year 2000 as Moi unsuccessfully made an attempt to help hoist Uhuru as his successor, the Kenyatta's would make a major return into government.
Dr Mungai, who had briefly served as Moi's minister when Maina Wanjigi was forced out over the Muoroto evictions, was appointed Personal Assistant to the Kanu chairman. Uhuru himself had entered parliament in 2001 on nomination and was appointed Minister for Local government.
Uhuru lost the 2002 elections to Kibaki but became Official Leader of Opposition. Beth Mugo would serve in Kibaki's Cabinet and Muhoho had made a comeback as influential Head of Kenya Airports Authority.
By the time Uhuru became Deputy Prime Minister, the clan was firmly back in the saddle culminating in his successful presidential run in 2013.
But after 10 years of Uhuru presidency in which the clan's parliamentary representation saw new faces such as late Kiambaa MP Paul Koinange, former Kiambu Woman Rep Anne Nyokabi Gatheca and Gatundu North MP Anne Wanjiku Kibe make a forceful return even as Beth Mugo clocked six parliamentary terms with a nomination as Senator in 2017.
Uhuru's cousin Capt (Rtd) Kung'u Muigai said the family will be left with little political representation at the exit of Uhuru. However, Uhuru's sister Christina Wambui Pratt's has been named as Jubilee Senatorial nominee. Uhuru could also remain active in the new dispensation courtesy of his role as chairman of the Azimio Council.