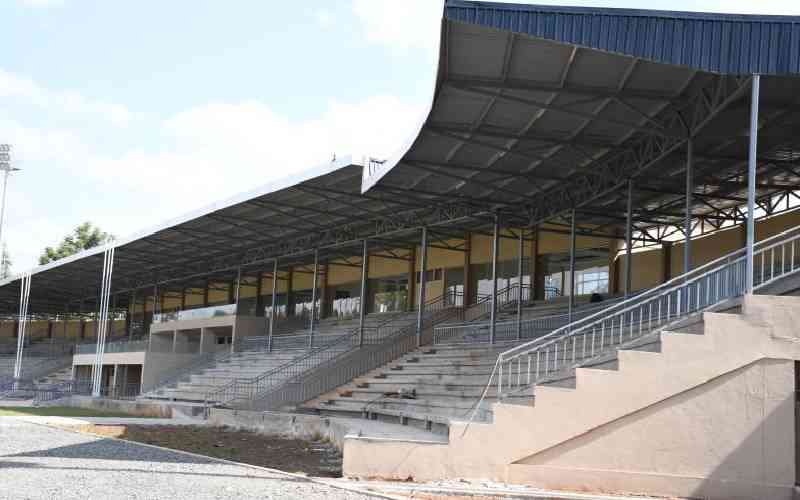 Construction work on the historic Kirigiti Stadium in Kiambu is nearly complete.
The upgrade project, launched two years ago by Sports Cabinet Secretary Amina Mohammed and Kiambu Governor James Nyoro, is fully funded by the national government at a cost of Sh600 million.
The 16,000-seater facility will be instrumental in national and international tournaments because of its proximity to Nairobi.
Sanghani Sagar, the project manager, said they opted for precast method of construction, which is easier, efficient and takes little time compared to the traditional construction.
"Pre-cast method of building involves moulding various parts of a building using concrete and assembling them afterwards after they are ready. That included the seats," Mr Sagar said.
He said the stadium had been made to international standards and after completion would be fit to host matches and events, including those by FIFA and other international bodies like IAFF.
The facility has a VIP pavilion, two presidential holding rooms, VIP holding rooms, two kitchens, four sets of washrooms, state of the art players, changing rooms fitted with security features and stores.
Outside the main stadium, Kirigiti will also have a volleyball and basketball pitch that will be completed in phase two of the project.
To add value to the stadium, the Kiambu County government is also in the process of making an ultra-modern amphitheater that will help youth with interest in art, acting and music to have a place where they can exercise and explore their talents.
Eric Kiriko, the Kiambu County Minister for Youth and Sports, said that as they focus on soccer and other ball games, the county is also interested in theatre arts and that is why the county has decided to make the modern amphitheater in Kirigiti stadium.
"We have other talents other than pitch games and Kiambu is rich in this. The amphitheatre will be instrumental in helping our youths get a professional place to act and also record music," Kiriko said.
Kiriko said they want to harness the talent industry in Kiambu and make Kirigiti a model place where other counties and nations can go to benchmark.
"We have many soccer clubs in the whole of Kiambu. We want them to compete at the sub-county levels, but come for finals at Kirigiti. It will be our local Wembley stadium," said Kiriko.
The minister further said Kenya has applied to host World Athletics Championship in 2025. "Kirigiti can be used as a build-up stadium by international teams because of its proximity to Kasarani stadium and Nyayo stadium. It can even be used for the actual competitions," Kiriko noted.
Maina Muturi, a Kiambu County Governor advisory member, said time had come for Kiambu County to also get a team to compete nationally with the likes of Gor-Mahia and Ulinzi Stars, and even get men and women to Harambee stars.
"We have the facility. Now all we need is to assemble a team that will compete at national level and the best of our players can also be absorbed by the national team," Muturi said.
He said Kiambu was 2,000m above sea level, an ideal level for athletics, with Limuru being a little higher than Kiambu.
"With this kind of geographical location and the kind of the stadium that we have, we are ready to have national and international athletes coming for build-up and exercise here. We are more or less like Iten in terms of altitude and weather. If this happens, even the economy of this county will improve, and we shall champion this till fruition," Muturi said.
He told The Standard that any revenue collected in the stadium would go to Kiambu County to help maintain the stadium.
"Maintaining this kind of stadium is not an easy task, bearing in mind the kind of infrastructure and fittings herein. There are other costs like water and electricity, and this is what we intend to cater for with the revenue collected," Muturi said.
Already the national rugby team has expressed interest in using the new Kirigiti stadium.
Meanwhile, traders are expecting booming business upon the launch of the stadium, with hawkers and owners of small busineses around Kirigiti expressing hope.
Nancy Wanja, a fruit vendor in Kirigiti, said she anticpates a good business in coming days, as the users of the stadium and members of the public will have to pass through their stalls for bites and juices.
"I foresee good tidings soon in my fruit business. I have even bought a sugarcane crusher and a blender in readiness," Wanja said.