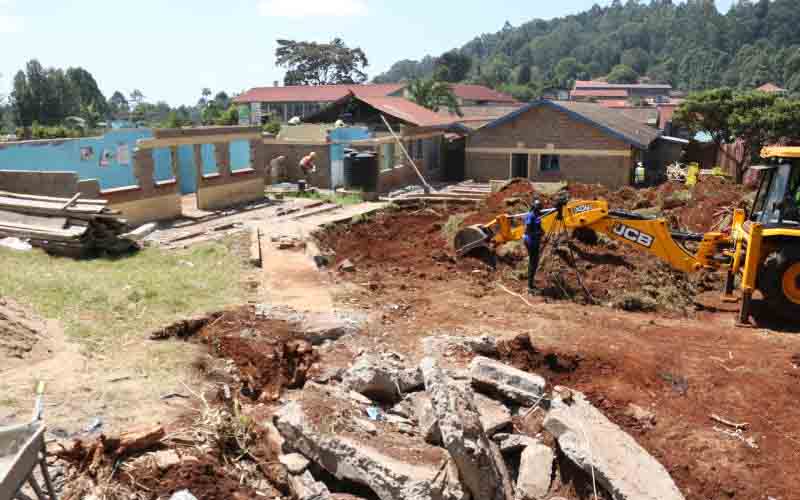 Presbyterian Church of East Africa (PCEA) Tumutumu Hospital yesterday held a groundbreaking ceremony for a four-storey Accident, Emergency and Outpatient wing.
Hospital administrator Kinyua Mukindia said that the facility has been funded by the government as promised by President Uhuru Kenyatta.
"President Kenyatta pledged to assist us with Sh100 million during our 100-year celebrations in October 2020," he said.
A total of Sh110 million was allocated to the project and Kenya Defence Forces is expected to take over construction.
"It will be complete in four months and will host several outpatient clinics including, orthopedic, pediatrics, ear, nose and throat (ENT) as well as a casualty and emergency area," Mukindia said.
Mukindia said the hospital had been experiencing congestion in the current outpatient department after the introduction of the Universal Health Coverage pilot programme.
Ease congestion
"We expect the facility to serve the region and create employment and also allow us to serve corporate clients who were often discouraged by the congestion in our outpatient department," he said.
Currently, the hospital's outpatient department receives 250 to 300 patients a day.
"Once the construction is complete in July, Tumutumu Hospital will serve over 500 patients a day," he said.
Gladys Wanjiku, the deputy hospital administrator said the hospital would also create jobs for locals as it would employ an additional 20 members of staff to help handle the expected high number of clients.
"As a mission hospital, we have been privileged to attain the status of Level 5, and this means we should offer more to our patients, at affordable prices," she said.
She said the elevated status and the additional clinics means the hospital would serve the community more effectively.
"The grant from the government will allow us to build two storeys out of the four that we are hoping to build," she said.
"We hope to attract more partners in the project after the first phase is complete."
Ann Mutahi, the moderator of the Tumutumu Presbytery, welcomed President Kenyatta's gesture of giving them the grant as part of his Big Four Agenda.
Mukindia said the facility would also help victims of road accidents on the dual carriageway from Kenol to Marua where the hospital is located.
"This expansion is very timely as it effectively equips the hospital to save lives incase of any emergencies along the highway," he said.
In 2020, when President Kenyatta pledged the Sh 110 million, he praised PCEA for its work in spreading the gospel.
"The first missionaries treated the soul, mind, and body and I think within that spirit is what we call a true partnership," he said.
He spoke of his willingness to partner with the church in order to provide services to the residents
"Let us be remembered for what we have done and what we will do," the president said.