Forgotten Meru Mau Mau hero due for posthumous award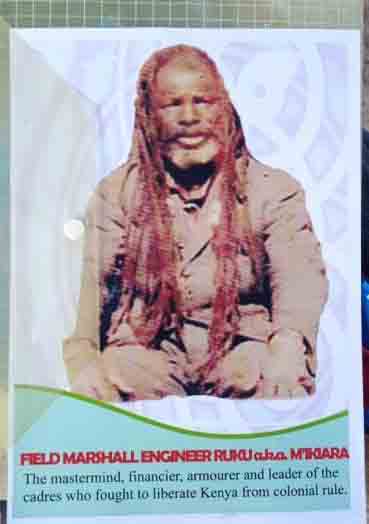 Late Mau Mau war hero Field Marshal M'Ikiara wa Nyonta Ruku from Meru will be honoured posthumously for his contribution to the nation.
Ruku, from Katheri, Central Imenti was enlisted by British Government into Kings African Rifles in 1940 and was dispatched first to Ethiopia to be part of the security detail guarding Emperor Haile Selassie, until 1945. After the end of Second World War, Ruku came back to Kenya where he was part of the experienced fighters who mobilised others to fight against British forces.
The county awards and honours committee chairman Dr Gershon Mwiti said Ruku was an unsung hero of Meru and Kenya in general, and deserved to be awarded for his part in the war, mainly inspired by clamor for land rights. The committee recently awarded some locals who had contributed to the community in various sectors, including political and education fields.
Dr Mwiti said after serving in Ethiopia, Ruku came back to Kenya charged and ready for war, to liberate citizens from colonial rule.
"We will confer him an award for his contribution to freedom," he said.
Ruku was in charge of Mount Kenya North and East.
"Ruku was also in charge of oathing of Mau Mau men and women in Makongeni in Nairobi. In fact one of the major roads in Nairobi should have a road name in Nairobi named after him, like Kimathi," said Mwiti.
He was one of the earliest casualties of Mau Mau war leaders, dying in early 1957.
"Unfortunately he did not last long. When the war was on, he happened to be one of the earliest to die. He died in the Nkunga forest area and he disappeared from the minds of people and no one talks about him," he added.
Like Mau Mau generals who were felled by bullets from colonial forces, Ruku's remains were buried near Kinoru Stadium in Meru town. Some of his seven children live at Katheri, including Abdi (87) and Geoffrey Ruku, the fifth born. His wife Karoki died in 1963.
Geoffrey, a retired technical officer at National Youth Service, said his father was leading some fighters in the Nkunga forest, part of Mount Kenya Forest at a time when the British had escalated the hunt, and even offered reward for any soldier who killed or captured him.
"They happened to bump into some African (colonial) soldiers and one of them managed to shoot him. He was buried in a trench near Kinoru," said the son.