My supporters are pushing me to join Raila camp, says Ngirici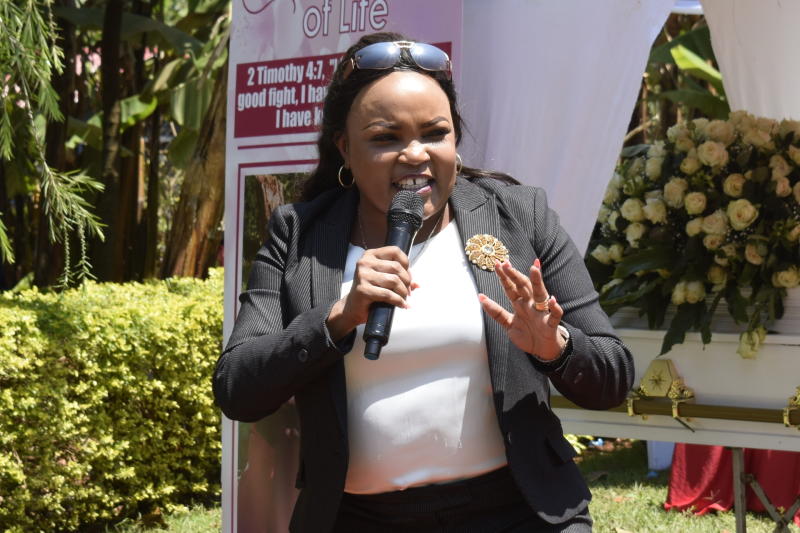 For Kirinyaga Woman Representative Wangui Ngirici, it's the wish of her supporters that she throws her weight behind ODM leader Raila Odinga in his quest for the presidency.
According to Ngirici, her supporters felt let down when she was 'betrayed' by Deputy President William Ruto and his United Democratic Alliance (UDA) party despite her efforts to establish and popularise the outfit in Kirinyaga County.
Speaking to The Standard, the erstwhile Ruto ally said Kirinyaga people sympathised with her due to the tribulations she faced in UDA that began following 'fake polls' aimed at edging her out of the governorship race in favour of Governor Anne Waiguru.
The polls, according to Ngirici, were privately conducted by UDA across Mt Kenya region with a view of coming up with strong candidates. But she said the plan was hatched by cartels who were out to discredit their rivals.
"Kirinyaga people are aware of this and they sympathised with me, they want me to join Raila's camp due to the betrayal but I beseech them to first support my gubernatorial bid," she said.
The Ruto lieutenant turned critic said although she is focused on unseating Governor Waiguru, she can't ignore the ever-growing popularity of Raila in Mt Kenya region, claiming that Raila and Ruto will each get half of the total number of registered voters.
"Even if Ruto is to win, he can only do so with a negligible margin of votes in Mt Kenya region. This is because of his insults to the regional political parties and the cartels surrounding him that are making his party lose popularity day by day," she said.
Ngirici claimed there is a clique within Ruto's camp that is calling the shots in UDA. She disclosed that this had contributed to her decision to dump UDA.
"They are dictating who to vie for which seat and they even control what UDA leaders say during TV and radio debates or even in newspaper stories. That is why you see not all leaders associated with Ruto participate in these debates," she said.
She warned that if UDA does not stop this, the party will lose popularity and get out of touch with the electorate.
But Ngirici claimed that the cartel has the blessing of Ruto since the 'gang' operates without fear. She cited an instance when insults were hurled at her in a Tanga Tanga Whatsapp group.
"I was humiliated and body shamed by the likes of Aisha Jumwa but Ruto never uttered a word. For this reason I can never go back to UDA even if I was given a direct ticket," she added.
She claimed that there will be mass exodus from UDA party since many leaders are tired of gagging and dictatorship.
"From North Eastern to Mt Kenya region I am in communication with leaders who have informed me they are waiting for the opportune time to move out of the party," she added.
Asked about her stand on the controversial Political Parties Amendment Bill, Ngirici said the Bill was what Mt Kenya region needed and lashed out at Ruto and his battalion for standing against 'what is good for Mt Kenya region.
"I was out of the country but the Bill is good for our region, those who voted against it are hypocrites and do not wish our region well, coalitions are what will guarantee our place in the next government," she said.
She continued: "Anybody who want our votes must tell us what he has for us. Even Jesus Christ disciples were promised life for following Christ. We can't give out our bread and bakery nor enter into a rental premise without a written agreement," she added.
On why she wished Raila a happy birthday but did not wish Ruto on his birthday, she claimed there was no internet on that day.
Although she denied claims that she is contemplating joining Raila's camp or supporting his presidential bid, all indications show otherwise. From supporting the controversial Bill to supporting pre-election coalition deal, Ngirici seems to be in love with Raila's political ideologies.
She said Mt Kenya politics will not be dictated by outsiders -a political statement that has always been acclaimed by Kieleweke stalwarts who maintain that President Uhuru Kenyatta is still the region's kingpin.
But when was asked a direct question on who is her favorite presidential candidate she claimed she was still weighing her options.
"It's still early for now I don't have a presidential candidate but with time and unfolding of events, I will definitely have one," she said.