Waiguru to Ngirici: You don't enjoy exclusive rights in UDA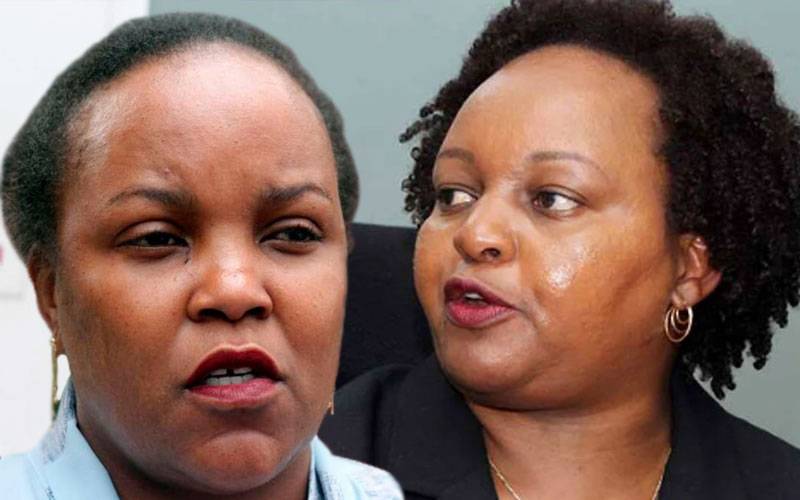 Kirinyaga Governor Anne Waiguru has answered her archrival Purity Wangui Ngirici, who has accused the United Democratic Alliance of betraying her commitment to the party.
In an exclusive interview with The Standard on Friday, Ngirici, who is the Woman Representative for Kirinyaga County, said she regrets investing her resources in building UDA's grassroots support, only to be shortchanged.
She claims Waiguru, who joined UDA in late October 2021, is Deputy President William Ruto's new blue-eyed girl, who enjoys the party's protection.
"I no longer peg my hopes of being elected governor to Ruto. I entirely depend on God and the people of Kirinyaga," Ngirici said on Friday.
In a quick rejoinder, Waiguru said during in an interview with The Standard that Ngirici shouldn't treat UDA like her personal property.
"It's the electorate who decide whether you'll be a party's ticket-holder, or not. If someone wants to successfully run for an elective seat, let her convince the voters," Waiguru said in Kirinyaga.
"I have only one vote, I can't influence the outcome of a whole election. I joined UDA because it's the people who advised me to. A political party does not belong to an individual. UDA belongs to Kenyans," added the county chief.
"We can't say 'simply because you were a founding member of a political party, you have exclusive rights to it'. Kirinyaga people implored upon me to join UDA, and I obliged.
"I encourage other people, who are interested in running for Kirinyaga Governor's seat on a UDA ticket, to join the party. I wouldn't mind if we are five people contesting for the same ticket during party primaries," said Waiguru.