Three siblings die in a fire tragedy in Ngecha village, Limuru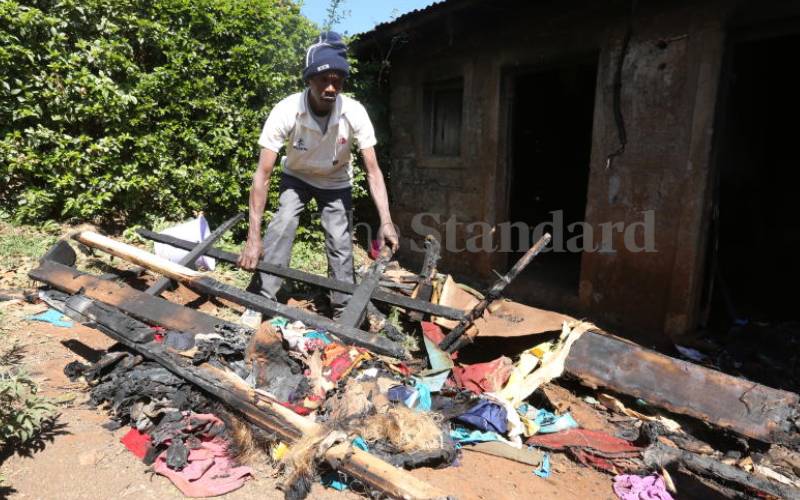 Three children have died in a fire in Ngecha village in Limuru, Kiambu County after their house burned down.
The three, Brandon Kiriro (5-years-old), Donnel Kinuthia (2 and half years) and 10-month old Nellan Wanjiru, had been left by their mother who was hawking eggs and boiled maize in the nearby Ngecha shopping center.
The fire, suspected to have been caused by a candle, started at around 8pm.
A neighbor, Ephantus Kamau, said that he was bathing when his children told him that there was a lot of smoke getting in his house.
Kamau hurriedly left the bathroom to see what was happening only to be met with a cloud of smoke.
"I knew fire had started either in my house or my neigbour's house. I took my children into a nearby nappier grass plantation and hid them there and rushed back to fight the fire. I realised it was my neighbour's house which had been locked from outside,"Kamau said.
Kamau added that he fetched an axe and broke the door but by then, the inferno was spreading to other houses including his.
"I called for help and people responded. One of the neighbours got into the house and came out with two of the children. He placed them outside as other neigbours streamed into the compound to help battle the fire, said Kamau.
"It's at the same moment that we were told one more child, the youngest, was still in the house. The same man again ran into the house and came out with infant who had already succumbed. We tried to call fire fighters to no avail. We used all we could like water and soil to put out the fire."
Kamau added that upon checking on the children, they confirmed that they were dead as none was breathing.
Shadrack Njunge a boda boda operator who was ferrying a customer said that he dropped his customer and went to help but the smoke made it difficult.
"We poured water and soil with buckets till we extinguished all the flames, but by then everything in the house had been reduced to ashes," Njunge said.
The neighbours called police from the nearby Ngecha police station and Tigoni police station who arrived and took the three bodies to Gachie Level 5 Hospital mortuary awaiting postmortem.
The children's mother, Lucy Wambui, 32, was also called to the scene.
According to the neigbours Wambui arrived and broke down upon seeing what her house and children had been reduced to.
"She could not stomach that pain, she cried hysterically as we tried to comfort her. She was overwhelmed by the tragedy. She was not speaking. She just held her eggs and maize in total despair," Kamau said.
Tigoni OCPD Mola Eilleen said that they received a report under OB number 11/08/11/2021 of the fire tragedy.
"We have informed our counterparts at the DCI to come and help unravel the possible cause of the inferno. As of now we can only speculate," Eileen said.