Man, 67 treks fourth time to Mashujaa fete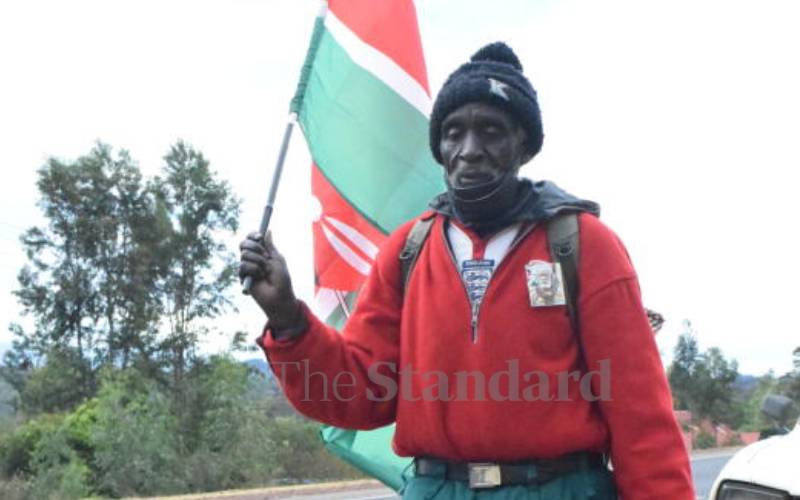 Carrying a national flag and a traditional stool painted in national colours, 67-year-old Stephen Kariuki Muigai was on Sunday on his fourth day of a trek that will take him to the Mashujaa Day celebrations in Kirinyaga.
He will have covered over 200 kilometres by Wednesday when he arrives at Wang'uru Stadium to attend an invite-only ceremony.
Muigai kicked off his journey five days ago and arrived in Nyeri town on Sunday night.
Last year, the father of two, from Shauri Yako Estate in Nakuru, walked another 200 kilometres to Kisii County to attend Mashujaa Day celebrations only for him to be denied access at the gates to the stadium.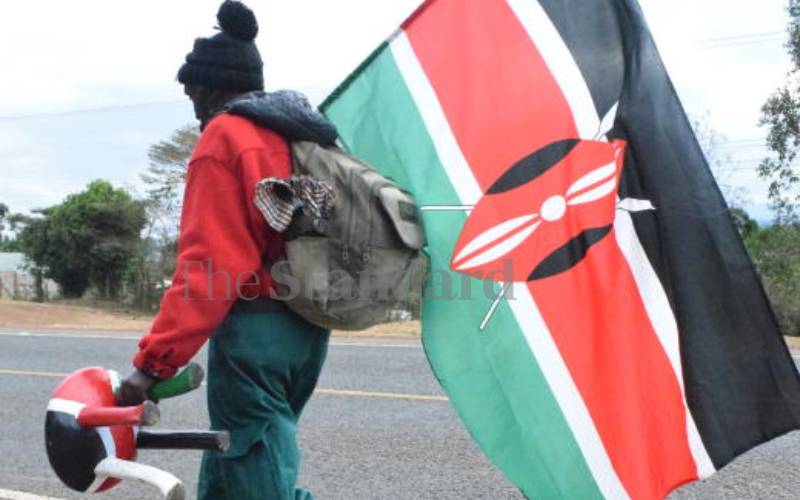 It is almost a sure thing that this will happen again this year, seeing as only 3,000 invited guests will be allowed to the stadium due to Covid-19 protocols.
However, he remains hopeful that the national and county government officials in Kirinyaga would give him an opportunity this time round to join other dignitaries and Kenyans who have been invited to grace the exclusive national event.
"Last year I didn't have an invitation card. This year I am counting on Kirinyaga Governor Ann Waiguru and the organising committee to at least give me a chance to join my fellow Kenyans in celebrating this event, inside the stadium," a determined Muigai said yesterday.
According to Muigai, the Mashujaa celebrations have a big role in his life as his grandfather was one of the freedom fighters.
When The Standard caught up with him around Dedan Kimathi University, he was taking a break by the roadside. He was preparing to spend the night in Nyeri town.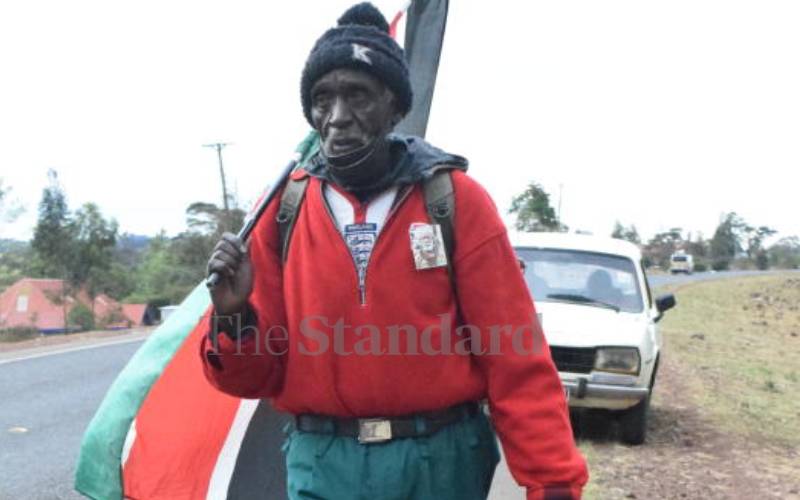 From Nakuru he had followed the route to Subukia then Maili Nne-Wiyumiririe-Kiawara then headed to Nyeri town. He is destined to take Karatina-Baricho-Kagio and emerge at Mwea.
Muigai who was in high spirits says he has not had any difficulties since he embarked on his journey.
He says he decided to walk for long distances to remind Kenyans how the freedom fighters struggled for the country's independence.
He has previously made long treks to Kasarani during Uhuru's swearing-in, to Kakamega and Kisii stadiums for the events and does not expect to stop with the Mwea fete.
The father of two says he devised his Mashujaa treks from the time the Uhuru Kenyatta government announced plans to host the national celebrations outside Nairobi.