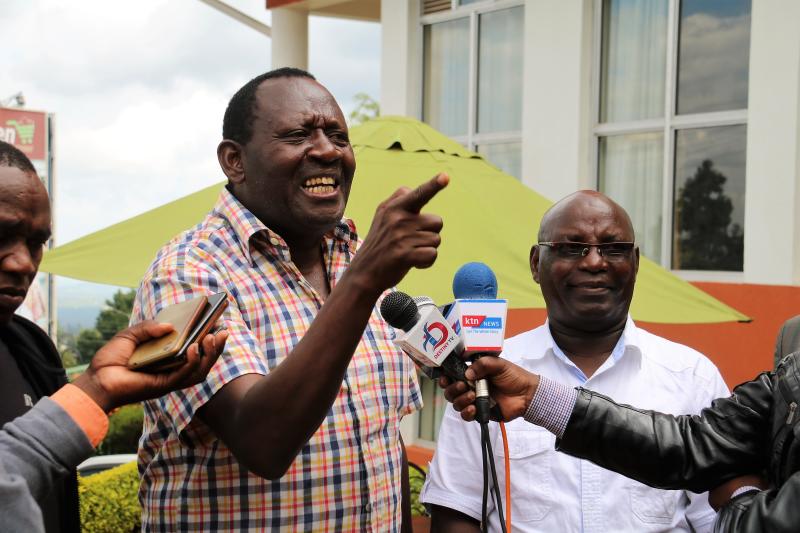 East Africa Legislative Assembly member Mpuru Aburi and Agriculture Cabinet Secretary Peter Munya are the latest to dismiss Governor Kiraitu Murungi's new book 'Beyond Politics'.
Writing about Aburi, Kiraitu said he was "causing psychological and political damage" in Meru with his "buffoonery" No Peu (Aburi's National Ordinary People's Empowerment Union) party slogan.
"He is a silver-tongued rubble rouser who pretends to speak on behalf of all the people of Meru. When did the people of Meru elect him to speak on their behalf? He tells lies, whips emotions and petty clan grievances."
And on Munya he said: "The then governor, Peter Munya, frustrated us. He ruled alone. He did not involve me or other leaders. His was a one-man show focused on only one thing-power."
Aburi revealed he was in the process of suing Kiraitu and have him expunge his name from the book.
"I will go to court to have my name expunged from the book because it is tarnishing my reputation. Kiraitu knows I am a big threat to his political ambition of retaining governor's seat and he is scared," Mr Aburi said in Tigania East.
Mr Munya labeled the book as "gossip" against him and Woman rep Kawira Mwangaza.
"It is a book that talks about others. It is gossip. But as he writes books he should not be writing about Munya and Kawira. If he is unable to work he should be talking about himself, not others," said the CS, adding that Kiraitu should resign if he is unable to deliver to residents.
He said: "If he wants to concentrate on writing books and becoming a journalist to do analysis, he should be given that job," he said.
Kiraitu labeled Mwangaza "a hypocrite deeply immersed in lies and deception of the people, especially the poor and the illiterate."
Kiraitu said: "She is a cunning businesswoman. Her Baite TV is her selfie. She has monopolised its screens as the bishop, the director and producer of her own ego. It is full of her endless repeated 'okolea' crusades, news interviews and reports whose main theme is only one: "That old man, Kiraitu Murungi, must go."
He said: "She neither has broad vision, team work nor planning for implementation skills. Despite all her claims to supernatural and divine powers, Kawira is a hoax. As they say, you can fool some people for some time, but you cannot fool all the people all the time".
Responding, Mwangaza said based on the current political climate, Meru residents have occasionally seen him throw temper tantrums.
"Kiraitu should stop blaming the local media and realize political climate has changed and his season is gone,"she added
"Kiraitu Murungi is a bully trying to scare a woman out of the 2022 gubernatorial race, I have already won the battle. He has sensed (an) early morning defeat (in) 2022,"she said.