Man suspected to have killed mother lynched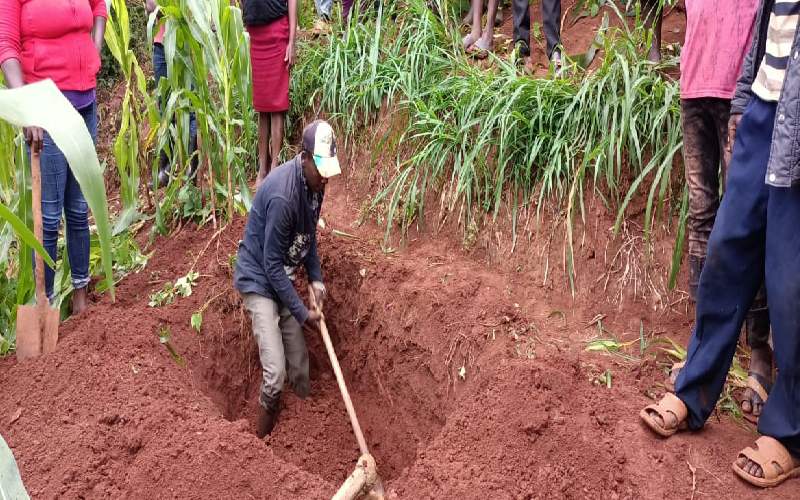 Angry residents of Kibingoti in Ndia, Kirinyaga County on Saturday morning lynched a 28-year-old man suspected to have killed his mother last week.
The man, identified as Moses Gitau, is alleged to have committed the act before escaping to an unknown destination.
Gitau is alleged to have returned recently to kill his brother.
According to Kibingoti Nyumba Kumi Initiative chairperson, John Mwangi, the suspect fled the area on Thursday night after allegedly killing his mother.
Mwangi said Gitau was cornered on Saturday, June 5 by irate residents while attempting to kill his brother, who lives with hearing disability.
Relatives, led by the suspect's elder sister Lucy Wanja, said they had been living in fear since the killing of their 58-year-old mother Tabitha Muringo Mwai.
"We never knew where he (Gitau) was, or when he would strike," said Wanja.
Wanja said she spotted Gitau walking towards their brother's house at 6am Saturday.
She, thereafter, screamed, attracting the attention of neighbours, who gave a chase, cornered and beat the suspect to death.
"We suspect Gitau had come back to kill his brother. His sister, who was awake, saw him and raised the alarm," said a neighbour.
"We are now at peace. We can meet without any fear while preparing to bury our mother," said Wanja
Kirinyaga West Sub-County Police Commander Martha Ng'etich said police arrived and took Gitau's body to the morgue.
"There was a lot of resistance from members of public who wanted to bury him," she said.
Ng'etich warned members of the public against taking the law into their own hands.