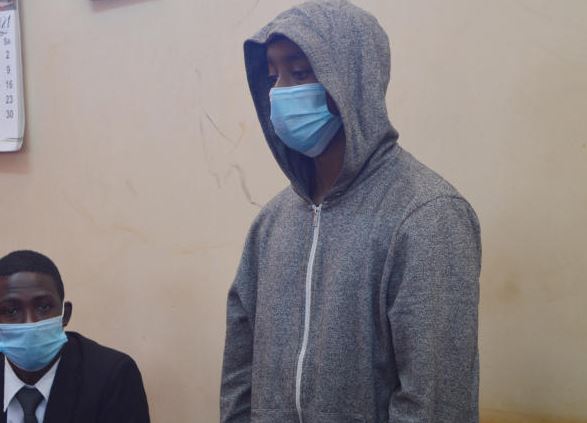 Lawrence Warunge, the 22-year-old suspect in the murder that wiped a Kiambaa family in January is expected in court today to answer murder charges.
Warunge has confessed to killing his father, mother, brother, cousin and a worker employed by his family in Kiambu County.
The Directorate of Criminal Investigation (DCI) confirmed yesterday that Warunge is fit to stand trial.
"This follows a psychiatric report released by Mathari Mental Hospital, confirming that the 22-year-old can now answer to his crimes," DCI tweeted.
On January 6, the bodies of five family members and a construction worker were found brutally murdered at their home in Kagongo, Kiambu County.
The five- a man, his wife, and two children were found lifeless in the house while the body of a farmhand was spotted within the compound.
Warunge, the firstborn son to the slain businessman Nicholas Warunge was then arrested three days after the incident in connection to the gruesome killing.
He was arrested at Wangige by DCI officers and locked up at Muthaiga Police Station for questioning.
"He told homicide detectives that he was inspired by the series 'Killing Eve' to end the lives of the five," DCI added.
An autopsy into their deaths by Government Pathologist Johansen Odour on January 11 would then shed more light into their last moments.
From his assessment, Oduor said the attacker seemed especially bitter with the father, Nicholas Njoroge, and his younger son, judging by the particularly vicious nature of wounds the attacker inflicted on the two victims.
"The person who got the most injuries was the father and son actually. I cannot remember exactly how many, but they had very many stab wounds, with severed necks. It is like the person who killed the two was doing it with a lot of anger," he told media.
According to the report, Ann Wanjiku, Warunge's mother, had broken arms and is the only one who appears to have tried to block the attacker.
The court then ruled on January 26 that Warunge was unfit to stand trial after a psychiatric report was presented at Kiambu Law Courts.
He would however be evaluated and treated in another 30 days after which more tests were to be conducted to assess his mental state.