Business owners count losses as Kenya Railways demolishes buildings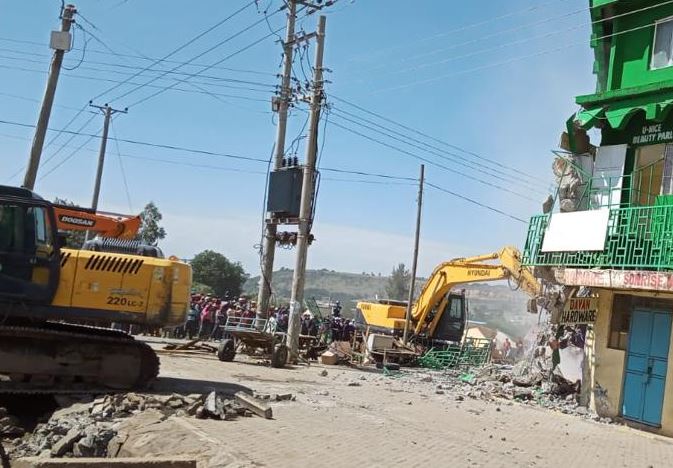 Business owners in Ol Kalou town, Nyandarua County are counting losses amounting to millions of shillings after their premises were destroyed by Kenya Railways Cooperation.
Residents woke up to find their buildings demolished by bulldozers from the cooperation on Tuesday morning.
The buildings are said to have been built on the cooperation's land.
The move has since caused protests from owners who claimed that they had not been given any notice to vacate the land.
Others claimed that they had leased the land and had the agreement documents.
According to spokesman James Nyoro, they had lost all their wares as a result.
"We were not given any notice to vacate and we woke up as usual to open our businesses. We were shocked to find that the buildings had been brought down with our wares inside," he protested.
He said that they had no option but move to the courts to seek compensation.
"We have lost millions of our investment and yet we had leased the land from the company. We have all the documents to prove this and that is why we will move to court to seek compensation," he said.
Joseph Uttah claimed that he had lost investments worth over two millions shillings from his gas business.
"They should have informed us in advance that they were demolishing the buildings. I have lost all my investment," he lamented.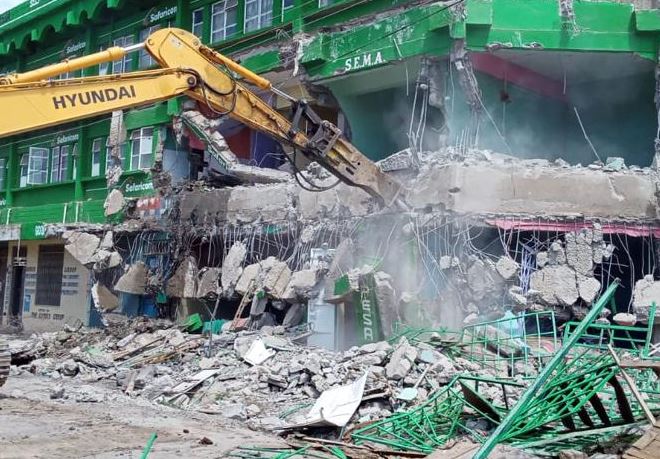 Following the move, Nyandarua Woman MP Faith Gitau demanded that they be compensated as there was no notice for them to vacate the premises.
"This is part of land that they have leased and they have proof to this. It is wrong for a government to render people jobless," she noted.
She observed that over 500 people had now lost their jobs as a result.
"Where will these people go?" she paused.
She demanded an explanation from Kenya Railways vowing to support the business people in seeking legal aid.