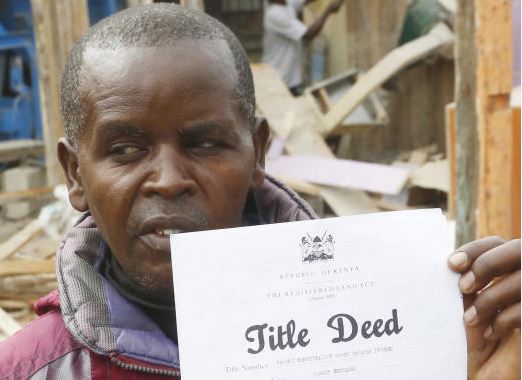 Property worth millions of shillings was destroyed yesterday after Kenya Railways destroyed residences in Nakuru. Hundreds of families in Gilgil town, Mbaruk and Mashini trading centres spent the night in the cold after earth movers knocked down their houses between 1am and 6am. It was raining at the time.
At Mbaruk, Kenya Railways flattened more than 30 homes and business premises. Not even a local institution, Blescohouse Premier School, was spared. The school's managers sent a message to parents informing them that the 350 pupils enrolled at the institution would be moved to a sister school in the town.
According to a teacher who sought anonymity, the school was served with a notice on Thursday afternoon, informing it that the perimeter wall stood on a railway reserve and should be moved.
"On Friday, the school hired workers who demolished the perimeter wall. We were shocked to see the excavator bring down the remaining part of the school, which they had earlier said was not on railway land," said the teacher.
The demolitions continued at Mashini trading centre at 2am under tight security from police officers. Susan Wambui said she had bought her plot near the Old Nairobi Road about 30 years ago and was shocked to learn that it was railway land.
"I had invested at least Sh4 million. Seven people had rented and set up shops on my property. When the corporation marked my building for demolition, I confronted them. They claimed they were using a 1915 map for the railway reserve," said Ms Wambui.
She said the exercise was illegal because "it is in disregard of the sanctity of title deeds issued by the same government."
"It seems that the Ministry of Lands and the Ministry of Transport are not working in sync. How can the Ministry of Lands issue us with title deeds only for the latter to claim we have encroached public land?"
Gladys Nyaboke and Patrick Muchai, whose houses were spared in yesterday's operation, cried foul after they were served with a verbal notice to vacate their premises within 24 hours.
"The railway reserve is only 30m wide on either side, and my Sh20 million home is 150m away. All homes around mine have been destroyed and they said mine is next. I have a valid title deed issued in 1993. This is very confusing," said Ms Nyaboke.
Mr Muchai said he bought his parcel in 2007 and was issued a title deed that was validated over the years. "Apart from my house, I have an animal feeds business worth more than Sh10 million. If my title deed was not valid, the bank would not have issued me with two loans, which I used to set up my business."
Kenya Railways Managing Director Philip Mainga declined to comment on the demolitions. "I am currently away from my office... I am not aware of all the activities on demolitions but I will revert once I am briefed on the matter."