Ex-Tetu MP fails to plead to charges of estate forgery after falling ill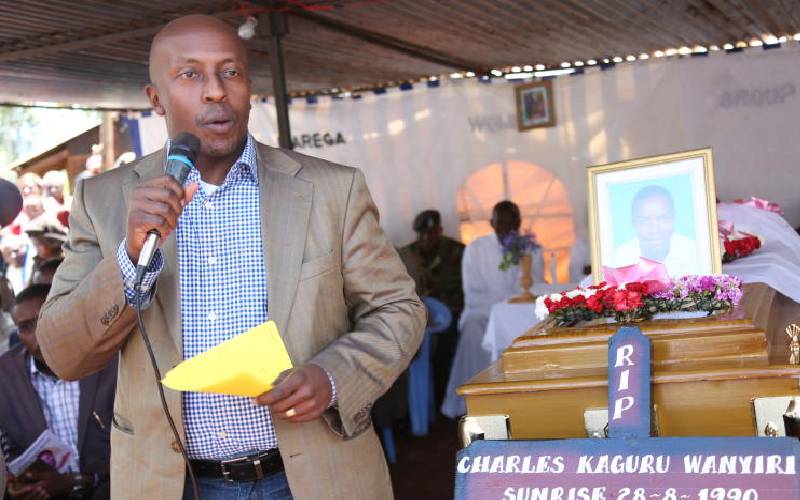 Former Tetu MP Ndung'u Gethenji's troubles continued yesterday, a few days after losing control of the more than Sh20 billion Kihingo Village estate in Kitisuru.
Gethenji was scheduled to be charged with forgery yesterday, but did not turn up in court. Lawyer Ishmael Nyaribo informed the court that his client had been exposed to Covid-19 and was taking precaution by isolating himself.
According to the proposed charge sheet, the former MP is accused of forging minutes of Kihingo Village (Waridi Gardens) Management One Limited's shareholders meeting on November 21, 2018, which he allegedly used to take over the estate.
Nyaribo told trial magistrate Martha Mutuku that after the former MP was granted police bond last week, he was exposed to Covid-19. "He is currently in isolation and taking appropriate measures to contain the virus. He will be ready to appear in court and plead to the charges as soon as he recovers," said Mr Nyaribo.
The magistrate allowed the application to defer the plea to December 1 to give Gethenji time to recover from the virus.
Gethenji lost control of a multi-billion shillings estate last week when Justice David Majanja ruled that he had no powers to take over the property's management and appoint a director without authority of shareholders and the home owners.
The judge's decision brought an end to the long running dispute between Gethenji, his brother Gitahi Gethenji and house owners at Kihingo Village.
Kihingo Village is one of Kenya's high-end estates where the cheapest house goes for upwards of Sh180 million and Sh320 million for the highest.
The dispute started when the former MP appointed Chacha Mabanga as a director of the estate's management company in 2013 on grounds that he was the majority shareholder and had authority to appoint any person he wished to be a director.
But his brother and the home owners convened another meeting and removed him and Mabanga as shareholders and voted to eject them from administration and management of the company that manages Kihingo Village.
The former MP then sued his brother and shareholders William Pike, Neresha Mehta, Sheetal Khanna, Kishor Kumar, Mohan Panesar, Samuel Mwangi and Varsani Dhanji to stop them from interfering with his shareholding in the estate.
The shareholders filed a counterclaim suit against Ndung'u and Chacha, accusing them of forgery and using fake documents to take over the estate's management.
Majanja, while dismissing Gethenji's suit against shareholders, stated that he could not singlehandedly appoint a shareholder without the consent of his brother because they had equal shares to the estate.