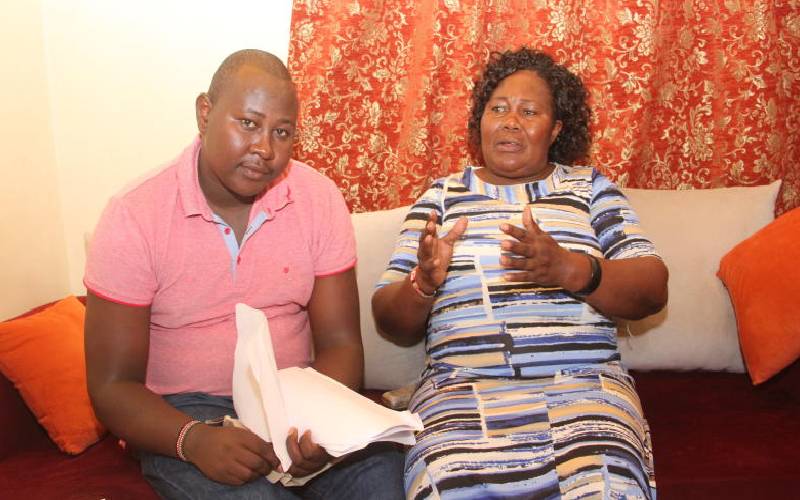 "God will intercede for me."
This is all Jane Mugure, the woman accused by her sister of giving away her son, told The Standard when we sought her side of the story.
In a 17-minute conversation during which she declined to give her side of the story, Mugure, at the end of it all, informed the reporter that she had recorded the phone call.
She emphasised that she did not want to talk about the case to the media and that the only comment she wanted to make on the story was that God would intercede for her.
Her sister Margaret Wambui had filed a case in a Mombasa children's court in June 2011, claiming that Mugure knew where her son was.
In her replying affidavit, Mugure said Wambui did indeed leave the child with her when he was only eight months old in 1992, and that she took care of him until he was six years old.
"All the time I advised the plaintiff to collect her child, she would tell me that she would take the child and drown him in Tana River as she was based in Garissa town," Mugure said in her affidavit.
In the affidavit, she said she was unable to take care of the child as her husband suffered from psychosis and would subject the child to physical abuse whenever he suffered psychotic attacks. "Due to the foregoing and after several attempts to get the plaintiff to come for her child I gave up the child to an adoption agency where he was adopted."
A trained nurse by profession, Mugure told the court she was in good standing to know when the child was in danger, and did the best to remove him from harm's way. She also denied that she had been uncooperative in her sister's search.
In another supporting affidavit dated October 10, 2011 in the High Court, Nairobi, she says her sister abandoned her son at the age of five at her house and went to an unknown destination.
"I was unable to take care of the children because of my problems and handed him over to Mama Ngina Children's Home," she says.
She said she was later called to the Children's Welfare Nairobi and alerted that the home had found a family to foster and adopt him. "After four years my sister came to my home and I explained what had happened to Japheth," she said in the affidavit.
She said she did not hear from her until 2010 when she heard from her relatives that her sister had been saying that she sold her son. A document seen by The Standard from Mororo Primary School in Garissa shows Margaret Wambui was the guardian of her sister's daughter in 1992.