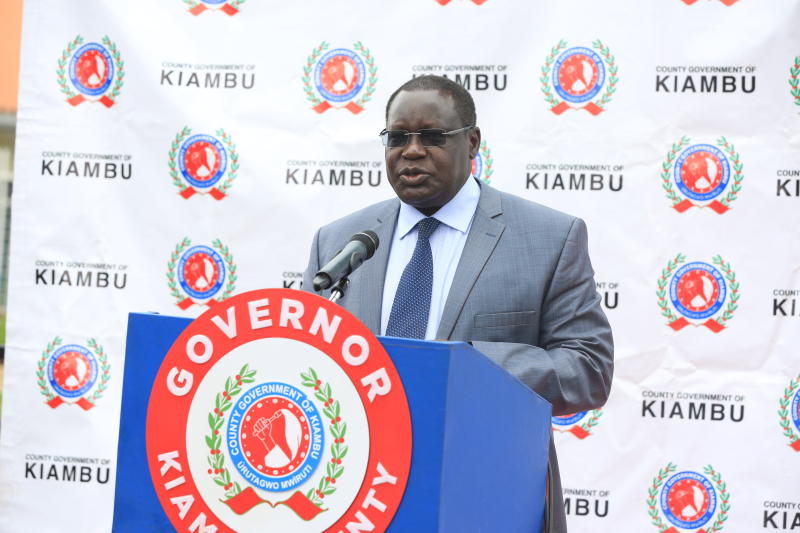 Alcohol traders in Kiambu have protested against Governor James Nyoro's (pictured) directive to shut down their businesses in an effort to tame the spread of Covid-19.
Kiambu Liquor Welfare Group Chairman Richard Kagiri termed the governor's directive "populist" and directed all alcohol traders to stay put. The group further dismissed Nyoro's directive as "a roadside declaration".
"Right now he (Nyoro) should be addressing the provision of personal protective equipment, isolation centres for Covid-19 patients and employing more personnel to deal with the virus. He should not hide behind surging Covid-19 cases in the county to trample on genuine and tax-paying businesses," said Kagiri.
According to the group, Kiambu has 6,000 alcohol outlets that employ more than 25,000 people directly and are a source of livelihood for more than 30,000 people.
Read More
On Wednesday, Nyoro ordered all alcohol outlets closed. Those found flouting the directive will have their business permits withdrawn, he said.
But bar owners say the rapid spread of Covid-19 in the county has nothing to do with their businesses, and could instead be traced to neighbouring Nairobi county.
"Kiambu is Nairobi's bedroom. It is shouldering the burden of Nairobi, which is the Covid-19 epicentre. This should not be used as the basis to curtail our business," said Kagiri.
He said alcohol traders have already suffered economic shocks after being out of business for more than four months, adding that all outlets have complied with Covid -19 regulations, including enforcing social distancing and checking client temperatures.
"The surging number of Covid-19 cases in Kiambu has nothing to do with the sale and consumption of alcohol as alleged by the governor. It is mainly poor preparedness by the county government. Just like his predecessors, the incumbent governor is trying to use liquor trade as a scapegoat. This move will fail and propel his political demise," Kagiri said