Sigh of relief for man who was mistaken for Kabuga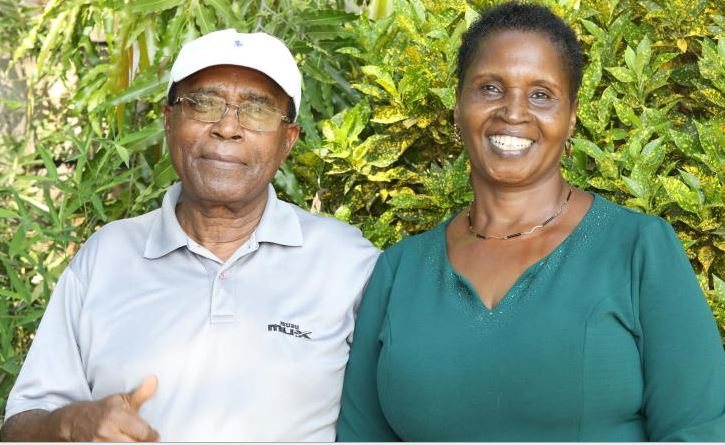 As news of the arrest of Rwanda genocide suspect Felicien Kabuga in France was reported around the world, one man in Isiolo town had a reason to celebrate.
Life for Daniel Muthee changed in 2012 after his photo was mistakenly published claiming he was one of Africa's most wanted man.
Muthee's life turned upside down after a local media house published his photograph in an investigative report alleging he was the infamous Kabuga.
Before then, he was living a quiet life in Isiolo County as a timber merchant enjoying his retirement from the Public Service. He says the story ripped his life apart.
"I received the news with mixed feelings because for the last eight years I have lived in fear. I am relieved but also overwhelmed by all the losses I had to endure," Muthee explained.
After the expose, Muthee tried to continue with his timber business but with a Sh400 million bounty for Kabuga's capture dead or alive, his safety was not assured.
"I became ostracised by neighbours and customers who had known me for years. They started to look at me with suspicion," Muthee explained.
At one point, a group of men posing as clients visited his business and greeted him in a language he did not understand.
"They came and greeted me but I did not respond. I later found out they were Rwandese. I reported to the police and that is when I realised my life was in danger," he recalled.
After making efforts to clear his name in a press conference and moving to court seeking damages from the media outlet, Muthee went back to Isiolo hoping life would return to normalcy.
"The government offered me police protection and I had two officers who kept me safe at work and at home but while I was grateful, the move made things worse for me because the perception was that I was being offered State protection because I was indeed the fugitive," Muthee said.
It wasn't long before his timber business slowly started to fail as clients kept off.
Choked with emotion at the memory of how his life slowly disintegrated, Muthee excused himself from the interview for a few minutes to compose himself.
"I sold off my businesses and started selling off my property. Having retired as a civil servant in 2000, I had plans to grow my businesses across the country, but the cost of trying to clear my name and keep alive was taking its toll on me," he recalled.
He gave up his social life and stopped playing darts and enjoying his evening beer, and retreated into his home, relying on his wife and family for support.
Lucy Mworia, a family friend, said Muthee's personality changed from the guy always hosting friends to a recluse who was afraid of his own shadow.
"He became a little disheveled and withdrawn, he rarely spoke or met up with his friends and he was home by 6pm everyday for eight years," said Ms Mworia.
His wife Rebecca Kanana recalled how her husband changed psychologically.
"He was never late coming home and always called to let me know where he was when darkness set in. It was always a relief when he came home alive," Kanana said.
She, too, was not spared the gossip and whispers, with many of her friends keeping her at arm's length.
"My husband was a public servant for years; he was transferred and not many people knew us before we finally settled in Isiolo so they lived in doubt of our identity and did not trust us despite our efforts to explain we were not the Kabuga family," she recalled.
Each month, Muthee tried to get justice from the courts and travelled to Nairobi to attend sessions. Eventually, he had no choice but to close down his business and slowly paid off his debts, which had accumulated to over Sh500,000.
"I became a pauper, I had no home, my business failed, my dreams of running for an MCA position in Wabera Ward went up in smoke; the strain made me develop high blood pressure. To date I take medication to control the condition," he said.
His four children were his only solace. They banded together and put up a bar and restaurant for the couple to run and live in.
"I never thought I would end up being a bar owner, but this is what fate would have in store for me. It is not much but I am alive and today I am vindicated," Muthee stated.
When news of Kabuga's arrest in France spread around the world, the phone calls to the Muthees kept coming and for the first time in eight years they breathed a sigh of relief. Kabuga had been on the run for over two decades.
"The calls were from family and friends who called me to celebrate and encourage me. I slept at 1am and watching the news I was so relieved. I hope Kabuga faces the law for what he did," said Muthee.
For now, Muthee and his friends are hoping the cloud of fear that has hang over their lives will finally clear.
They say truth will set you free and in this case it has really set Muthee and his family free.
Kabuga, 84, one of the most wanted fugitives of the Rwandese genocide, was apprehended in Asnieres-sur-Seine north of Paris.