Meru police recover over 20 stolen motorcycles as hunt for more escalates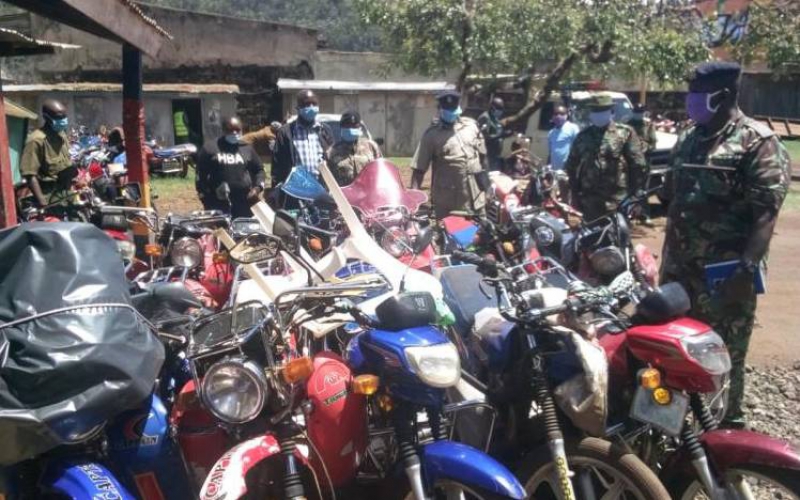 Security personnel in Igembe North in Meru have recovered over 10 motorcycles belonging to boda boda operators.
Igembe North Police boss Apollo Busolo, displaying the recovered motorcycles at Laare Police Station, said they had arrested some of the suspects behind the thefts.
The recoveries were done as the law enforcers intensified a crackdown after the operators protested increasing theft and injuries at the hands of armed robbers.
Mr Busolo said some of the thefts were happening at the start of the 7 pm-5 am curfew hours.
Busolo said the operators became victims during the rush to beat the curfew.
"The motorcycles are being stolen as the curfew approach. Some of the passengers could be robbers," said the sub county police commander.
He said the motorcycles were stolen from different areas, and that the owners had suffered injuries during the incidents.
"The owners have identified them. We have asked them to provide the relevant ownership documents so that we can restore the motorcycles to them as we prosecute the suspects," he said.
In addition to apprehending some suspects, Maua |Police Chief Henry Okongo said the security officers had also been in successful in recovering firearms which were forwarded to the government forensics ballistics experts for more investigations.
Mr Akongo also said some suspects were apprehended and would be taken to court.
The two police bosses said they will continue the crackdown on the gangs, even as they ensure the curfew is strictly observed.
Another 10 motorcycles were also recovered from various areas in the last few days, according to Watu Credit, an agency that facilitates the acquisition of the assets on credit.
"We have had a challenge of increasing theft of motorcycles. But we are asking the owners to not leave them unattended, and to take personal precautions by assessing the passengers," said Leonard Njogu, an asset recovery officer at the agency.
Vincent Murithi, a boda boda operator in Meru town, said several of his colleagues had fell victim to what seemed an organised gang targeting areas in Imenti North.
"Within the last few months we have had more than 10 sto len motorcyclesin this area," said Mr Murithi.