Villagers run for dear life as meteorites fall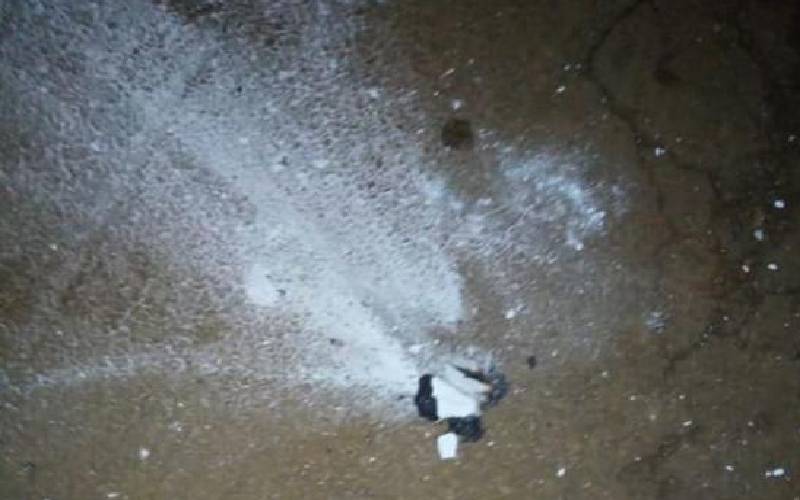 A chilly evening was disrupted by a terrifying sound like gunfire followed by a blast in Kombuini village, Kirinyaga County.
A meteorite dropped from the sky, tore through the roof of Mary Wamburu's house and landed on the concrete floor forming a crater, then fragmented into pieces at around 8pm on Friday.
A similar occurrence in the neighbouring Gatuto and Kimicha areas frightened the locals.
Witnesses say the meteorites lit up the sky in a reddish brilliance before landing in three different spots, sending villagers scampering for safety.
In Kimicha, a meteorite fell along the Kerugoya-Kaguma road and in Gatuto, it fell on someone's farm, forming a crater.
Ms Wamburu said she was in the kitchen preparing supper when the meteorite fell in the main house where her mother was.
"We heard a sound like three gunshots followed by a loud thud in the house. We remained silent for a while, stupefied and too shocked to do anything. No one was injured," she said.
Francis Njenga said he was outside his house when he saw a brilliant object drop from the sky at a terrific speed, followed by what sounded like gunfire and a loud thud.
Other residents said they thought the world was coming to an end and started praying.
Some villagers locked themselves in their houses while others ventured outside to search for the objects.
A Nairobi based geologist, Vickson Kihima, said the rocks are meteorites, which are debris originating from the outer space.
"They survive their passage through the atmosphere to reach the earth's surface at a high speed," he said.
He explained that a meteorite has a fusion crust and an aerodynamic shape, characteristic of the rocks that fell in Kirinyaga.
Another expert, Wachira Kibanya, also said the small rocks were meteorites.
He warned that the fragments the villagers collected could be radio-active or harbour microorganisms that could be detrimental to health.