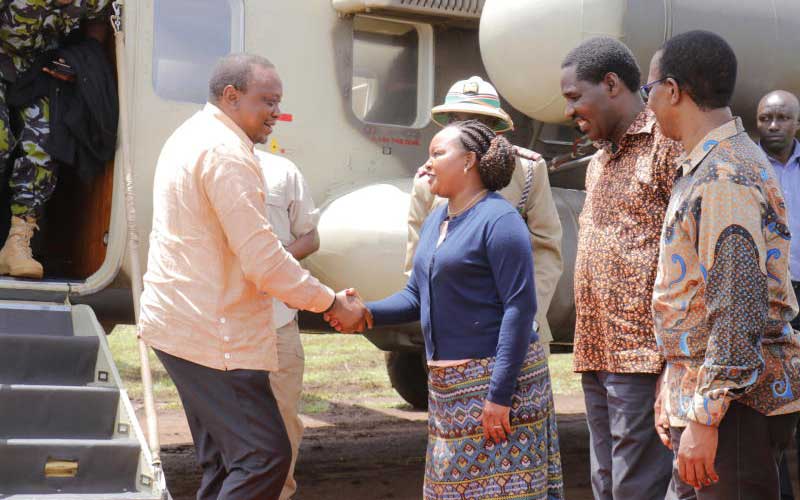 President Uhuru Kenyatta has asked Kirinyaga Governor Anne Waiguru to resolve a dispute over the construction of a Sh15 billion project by the Kenya Medical Research Institute (Kemri). The project in Wamumu area, Mwea, involves the construction of a Level 5 hospital, a medical research and teaching centre, and a medical supplies factory. It was scheduled to start in January 2016, but the Kirinyaga County Government and Kemri disagreed on how the workforce would be hired. During a tour of the county on Saturday, the President asked the governor to get into an agreement with the institution for work to start as soon as possible.
SEE ALSO: Uhuru: Inside last 735 days as President
The county government was to donate 100 acres but Mrs Waiguru said they would not release the title deed to the institution until they signed a memorandum of understanding (MoU) to hire local casual labourers. "We are the ones giving out the land for free and the only thing we are asking of the institution before we release the title deed is for them to sign a contract indicating that a certain percentage of the jobs will be given to Kirinyaga residents," said Waiguru. Uhuru, however, observed that the project would not only benefit county residents but people from the entire Mount Kenya region. "There should be no problem giving jobs to local people. I am asking you (Waiguru) to prepare the MoU and let the institution sign it next week so that we do not delay the project further," said Uhuru. The governor revealed that they were trying to avoid a situation "like what happened at Thiba Dam, where people had been flocking the county offices complaining of discrimination."
SEE ALSO: Kenya's curse: Motion without movement
"Kirinyaga people have been disadvantaged in the past when it comes to projects, which must now be addressed. For that reason, we have had reservations on the Kemri project because we want to be sure that we have a written agreement stipulating the benefits our people will accrue from the project." The standoff has led to acrimonious exchanges among political leaders in the past, with Mwea MP Wachira Kabinga and Woman Representative Wangui Ngirici accusing the county government of sabotaging the project that is expected to boost the economy once it is operational.