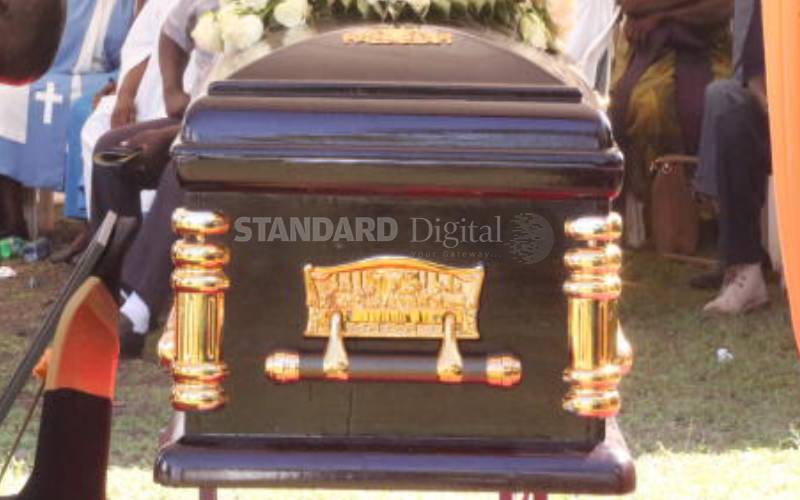 A court has locked out a woman and her daughter from participating in the burial of a senior police officer she is thought to have been married to.
Chief magistrate Josephat Kalo declared Trizar Nabwire's marriage to Bernard Ngugi null and void.
"The court finds that there was no valid marriage between the plaintiff (Nabwire) and the deceased (Ngugi)," said Mr Kalo.
In his judgement, Kalo said the marriage was invalid since the plaintiff was a minor when she purportedly got married to Ngugi, a former in charge of Eburu police station.
"The plaintiff lacked capacity to contract a marriage since she was 16-years-old. The purported marriage is thus declared null and void," he ruled.
Kalo ordered Nabwire, now 23, to pay the cost of preservation of Ngugi's body from September 3, 2019, to the date the body shall be removed from the mortuary for burial.
He also ordered Nabwire and her daughter locked out of Ngugi's funeral and other related arrangements.
"The plaintiff's case is hereby dismissed. She has failed to prove her case beyond reasonable doubt. She has also failed to prove that she was married to the deceased," said Kalo.
However, Nabwire's son was allowed to participate in the burial because a DNA test showed that Ngugi was his father. The daughter was locked out after her DNA failed to match Ngugi's.
Nabwire had gone to court after being locked out of Ngugi's funeral arrangements by Jane Nyambura.
Nyambura is Ngugi's widow.
Nabwire had claimed that Nyambura's actions subjected her and her children to mental and psychological torture.
She wanted Nyambura restrained from discriminating against her and her children. She also wanted to be allowed to participate in Ngugi's burial.
Nabwire also asked the court to issue a permanent injunction restraining National Police Service, Police Sacco, Pioneer Insurance and Cooperative Bank of Kenya from releasing any funds or benefits for the deceased to the defendant.
Her case, however, collapsed after the defendant testified.
Nyambura said she had not separated from her husband as claimed by the plaintiff and that her children were the only legal family Ngugi had.
She also told court Nabwire had not reached the age of consent for a marriage relationship. The case was dismissed after this testimony and the plaintiff's inability to prove she was married to Ngugi.