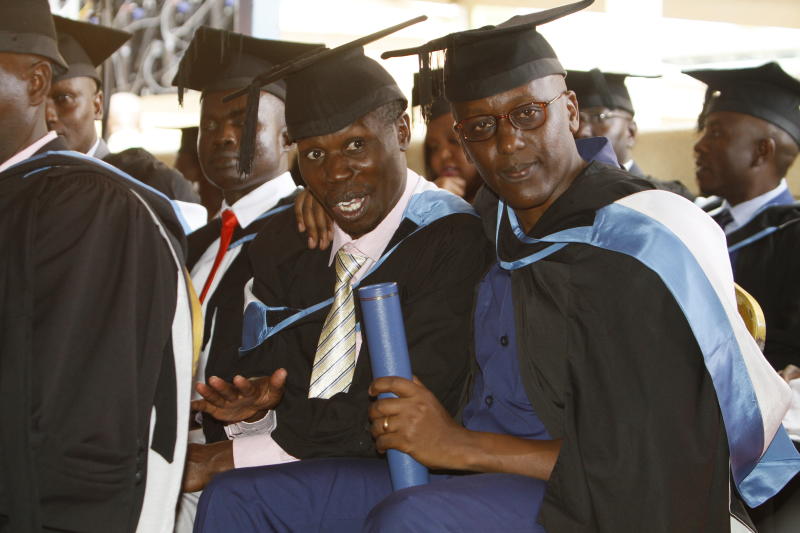 Former police inspector Dickson Munene, who was jailed for the murder of a former MP's son, is among 10 convicts who were awarded law degrees yesterday.
The inmates, many of them incarcerated at Kamiti Maximum Prison, graduated with law degrees after four years of learning behind bars.
Of the 17 graduates who were drawn from the Kenyan and Ugandan prisons, 10 were inmates in different prisons in Kenya while three were former convicts who enrolled in the program while still in prison. The rest were there prison officers and one APP staff.
Their graduation is the first of its kind in Kenya through the African Prisons Project (APP), a project started in Uganda some 10 years ago to equip prisoners with legal skills and to ensure they get timely justice. Munene, who was jailed for the murder of former MP Patrick Muiruri's son, was among those who obtained their law degrees.
Munene, whose sentence has been reduced to 21 years, said the programme had equipped him with legal knowledge that has helped him aid inmates who lack proper legal representation.
Read More
"The programme equips one with top legal skills. It has been highly gratifying to help inmates who can't afford lawyers up to a point that they leave prison. Helping others is what has kept me going all these years," said Munene, who has been in prison for 10 years. Also graduating was Wilson Kinyua who, alongside 11 other inmates, presented a constitutional petition against the death sentence and won.
Kinyua, who was freed in February, this year, has since formed Criminal Justice Dialogue, a platform where he engages with stakeholders in the criminal system to air grievances of prisoners.
APP Legal Aid Manager John Muthuri said Kenyan prisons are filled with inmates who don't deserve to be there.
"In Kenya, there are only about 8,000 lawyers who are supposed to serve more than 54,000 prisoners. This translates to about 80 per cent of inmates who suffer behind bars for lack of legal representation. At APP, we are creating innovative ways to ensure that everyone behind bars who can't afford legal representation is represented," said Muthuri.
To enrol for the law degree, one must have scored at least a C+ in KCSE and a similar grade in English and Kiswahili. One must also first complete a three-week training as a paralegal officer to offer legal advice to fellow inmates.
After six months, paralegals are advised to enrol for a diploma in law and then a degree in the same field.
Currently, 30 inmates at Kamiti, Naivasha and Lang'ata Women's prisons are enrolled in the degree programme.
In Kenya, APP works with the Kenya Prisons Service to identify suitable candidates for training.
According to Muthuri, law graduates at APP are allowed to sit bar exams and start practising. APP founder and Director General Alexander McLean said the programme aims to increase access to justice by the less privileged.