Brave man who drove burning tanker rewarded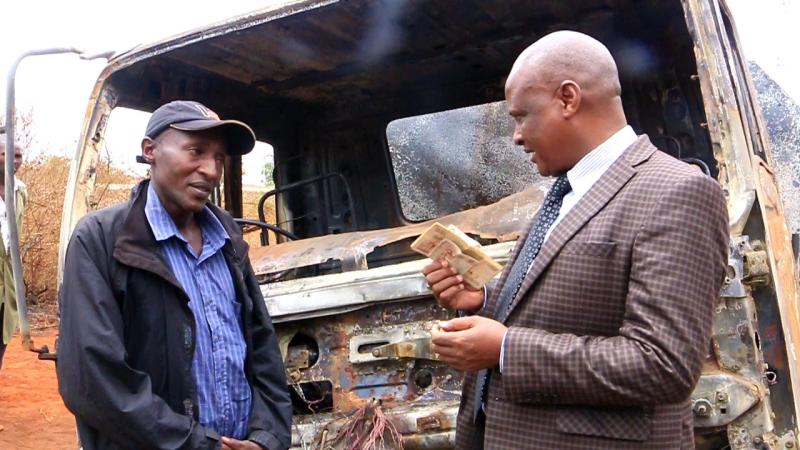 A brave driver who risked his life to move a burning fuel-tanker from a petrol station in Embu County's Rwika market has been rewarded for his heroic act.
James Mugo, 50, on Friday received Sh10,000 from County Commissioner Abdullahi Galgalo as an appreciation for his courageous act that prevented a potential fire disater.
On Thursday, Mugo's tanker was emptying petrol at Independent Petrol Station when it caught fire from its underside. On realising this, Mugo jumped in and drove the tanker fast to about 200 metres away, where it burst into flames while he managed to jump off and flee unharmed. The lorry was loaded with 8,000 litres of petrol and would have caused a fire disaster in the populous town.
Galgalo thanked Mugo, saying his swift and selfless decision saved many lives and property that would have been lost if the tanker had been left to explode.
"Other Kenyans should follow Mugo's example and sacrifice for the betterment of others," said the administrator as he presented the gift to Mugo at the scene of incident.
Galgalo also commended residents of Rwika market for staying away from the burning tanker. In tears of joy, Mugo said he did not understand the courage that gripped him.
"Even now I don't believe that I did it. It was like a dream. I wonder where the courage to do what I did came from. I greatly thank God for the miracle," he said.
Mugo said as he offloaded the fuel he noticed some flames emanating from a spot on the tank. He said he just imagined the big damage it would bring to the station staff and all the nearby shops and the people walking around.
He said after noticing the flame, he hurriedly disconnected the pipes that were offloading the fuel into the well, jumped into the lorry and sped away as the fire engulfed the vehicle.
"As I drove away, I could see I was not yet out of the populated areas and thus drove faster until I reached a secure area and jumped out before the lorry burst into flames," Mugo said.