Brave Kenyan drives away burning fuel truck, saves lives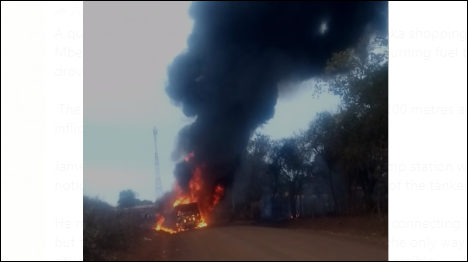 A daredevil driver has averted a fire tragedy at Rwika Shopping Centre in Mbeere South, Embu County after jumping into a burning fuel tanker and quickly driving it away from a pump station.
The tanker was consumed by the flames about 200 metres away from the shopping centre in the Thursday morning incident. There were no injuries.
James Mugo Kangara was offloading petrol at the pump station when he noticed a fire coming from the lower part of the tanker.
He said he first tried to disconnect the fuel hose from the tanker, but that was in vain. He then decided the only way to save the situation was to drive the truck away.
"I managed to drive the burning tanker away from the shops and residential houses. I managed to jump out just in time before the tanker burst into flames and was reduced to a shell," said the driver.
He had ferried the fuel from Nairobi in the lorry registration number KBS 256D to Independent Petrol Station in Rwika Market which has tens of shops and other businesses.
Lucy Njiru, an eye witness, recalled hearing an ear-splitting boom before noticing smoke and fire from the tanker.
"We made an emergency call to the police and the fire brigade. They arrived later and helped put off the fire before it could spread to the nearby bush," she said
Area chief, Jane Njoki Kaina said she responded immediately after she was alerted about the incident and called the police.
"There were no casualties or injuries. We laud the quick and selfless action of the driver for driving the burning tanker away from shops and residential houses and averting a disaster," she said.
Police from the Mbeere South division led by the officer in charge of operations Kingsford Nyagah visited the scene.
Mbeere South Sub-County Police Commander Ahmed Mohammed said investigations had started to find the cause of the fire.