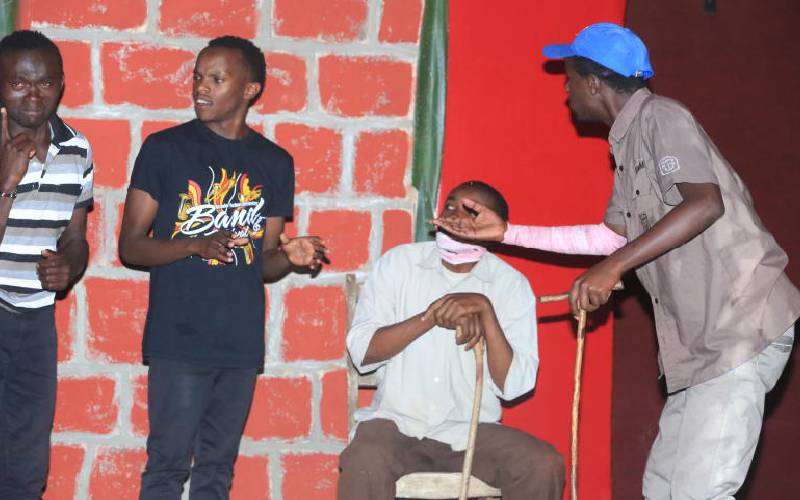 Since the days of the legendary playwright Ngugi wa Thiong'o, Limuru has always been home to one of the most vibrant theatre scenes.
It is here that Prof Ngugi staged his play, Ngahika ndeenda (I will marry when I want) in the 1980s before it was banned.
Now a theatre group calling itself the PBAG (Presbyterian-Based Acting Group) has revamped live staging of plays, drawing large audiences with their rib-cracking plays.
Coincidentally, all the members of PBAG come from within Kamirithu-the same place where Ngugi staged his plays in the late 1970s and early 1980s. The team stages its plays at Manga Corner Hotel, at the heart of Limuru town.
Bonny Kanyuira from Ndeiya, Limuru, is the director of the riveting plays.
"PBAG consists of young men and women with a passion in acting. We came together after participating in church drama festivals and realised that we had a talent to nurture," he said.
The group started by rehearsing Kikuyu cultural songs such as Muthirigu, Mumbuuro, Ngucu, and Muthuunguci, which they would perform in various occasions around Limuru.
Former students
Most members of PBAG are former students of Ngenia and Thigio Boys schools, which are known to produce the best Kikuyu folk songs in annual national music festivals.
After the young men and women joined hands to form a theatre group, Kanyuira scripted the first play, which was staged at PCEA Tiekunu in Ndeiya after a Sunday service.
"The turn-out was overwhelming. It gave us hope and morale to act more," he says.
Today, PBAG stages its plays once every month and succeeds to draw Limuru town to the hotel's basement, now transformed with decors, props and stage lights, with the in-house DJ Kuche playing old school music before the curtains open.
Last Thursday the group was at it again. At exactly 3pm, all the lights went off, leaving only those lighting up the stage.
The audience held its breath.
The group was staging its latest play titled Anema, which has been staged several times, with the audience always asking for more.
Despite the fact that Ngugi's play, Ngahika ndeenda, was last staged in the area decades ago, Kanyuira says the playwright's shadow still looms large in Limuru.
He says the group is following in Ngugi's footsteps even as resources to stage plays run scarce.
"Staging theatrical plays is time consuming and expensive. We have never received any significant help from the county or national government. We rely on our pockets and entrance fees," he says.
John Wainanina, an ardent fan of PGAB plays, says he attends the shows with his family and has never been disappointed.
"I loved drama when I was in school and this place gives me the perfect place to remember my old days. These young men and women are gifted in acting, which is a dying culture," Mr Wainanina told The Standard.
Nothing satisfies
Dj Kuche, the man behind back stage music and audio effects, said nothing satisfied him than seeing the audience's reactions.
"We use music for interludes and I try as much as possible to get a thematic song," he says.
The audience cuts across all ages. Peter Njenga, 62, who says he watched Ngugi's Ngahika ndeenda in the early 1980s at Kamirithu, says he got wind of the play by PBAG and made it a point to go watch.
"It's very encouraging to see young people engage in this kind of activity. Their play has taken me back to 1980s," he said.