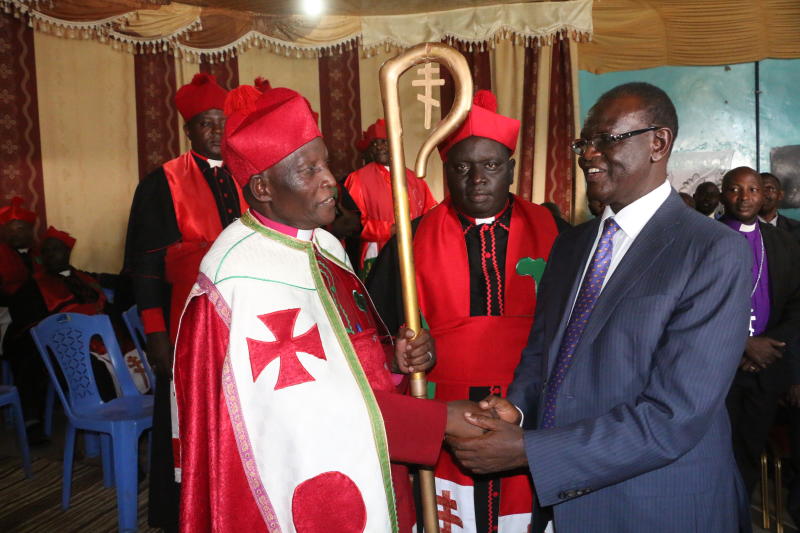 Infighting in the African Independent Pentecostal Church of Africa (AIPCA) appears far from over after an archbishop denounced reports that the warring factions have reconciled.
The wrangling was evident yesterday as two factions, one led by Archbishop Julius Njoroge and the other under Archbishop Fredrick Wang'ombe, held separate annual church ceremonies in Meru and Nyeri counties.
The Annual Holy Oil Consecration Ceremony, which is supposed to be held as a single event, is meant to bring all its church parishes together from across the country.
The faction led by Njoroge held its ceremony at St Rosary AIPCA Kiithe Church in Meru in a function attended by Governor Kiraitu Murungi. However, Archbishop Wang'ombe led his faction in a consecration ceremony at Muthuaini in Nyeri.
Archbishop Njoroge denounced reports that he had reconciled with Wang'ombe and were expected to hold a joint consecration ceremony.
Njoroge said some forces within the church were misleading the faithful and the country that they had reconciled.
"While we are celebrating a very peaceful ceremony here today, other people who do not want the truth of God were in the media this morning, misleading the church, the country and the world on issues that l am going to denounce," said Njoroge.
He asked the faithful to embrace peace despite the problems the church was undergoing.
"Those people who do not like to follow the rule of law are engaging in propaganda maligning my name and that of the church," he said.
Governor Kiraitu asked the church to unite as it was during the struggle for independence.
"We should not feel ashamed to be in the church that helped to bring independence. This church stood with Africans and it is respected, so you should embrace peace knowing you are the tallest tree and be ready to be hit by the wind," he said.