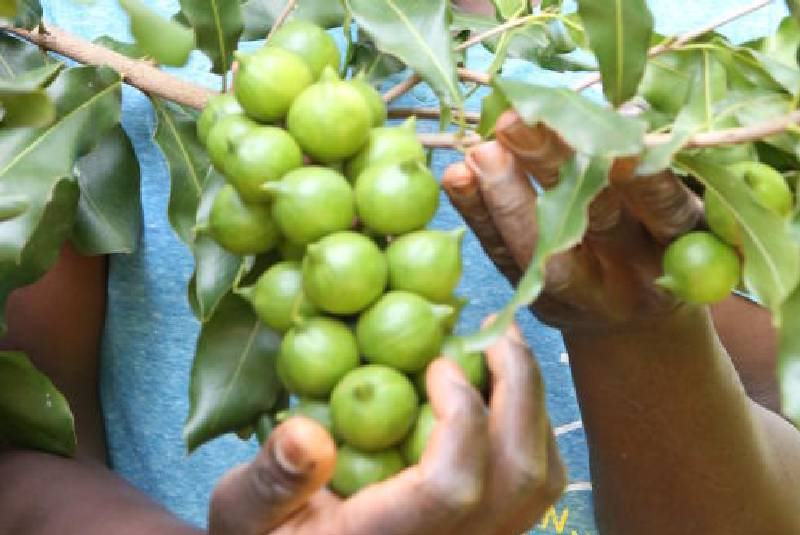 Macadamia farmers are facing a poor harvest this season because heavy rains destroyed the crop as it was flowering.
The county produces an average of 400,000kg of macadamia nuts annually but this season the harvest could be below 100,000kg.
Crop experts have blamed the farmers' woes on the heavy rains, which commenced last April and continued to the end of September without the usual break in August, when the trees start flowering.
"The unusual heavy rains, which continued up to the end of September last year and were charaterised by a very cold spell, made macadamia trees to start shedding flowers in August, leaving the trees almost bare without any developing nuts," said John Kimani, a crop scientist.
Read More
Dr Kimani, who is the Kenya Agricultural, Livestock and Research Organisation's Kimbimbi Centre manager, said the changed weather pattern witnessed in most parts of the country also affected mangoes and avocados, which flower at the same time with macadamia.
"Trees have their natural ways of dealing with over-bearing depending on whether there is too much rain or expected drought and can shed premature fruits to maintain the number a particular tree can support in the event of any adverse weather condition," he said.
According to Kimani, the few remaining premature mango and avocado fruits have started falling off, just like macadamia nuts, an indicator that the fruits will be scarce come the picking time.
Perish Nyambura from Gakoigo village, who has 50 mature macadamia trees, said she had been harvesting an average of 1,000kg of the nuts every season but was expecting a significant reduction this year.
Ms Nyambura said even after the cold spell ended, the few premature nuts that survived have started falling off the trees at an alarming rate.
She said farmers who will be lucky to harvest over 500kg of the nuts should consider themselves lucky as the prices were likely to be the best ever due to low supply.
"Due to the anticipated shortage, the prices for the few nuts the farmers will manage to harvest will the best ever and could range between Sh250 and Sh300 a kilogramme," she said.
Most farmers in the area harvest an average of 300kg a season.
The county, on the other hand, received very low rainfall during the short season, thereby affecting crops such as coffee, avocados and mangoes.