?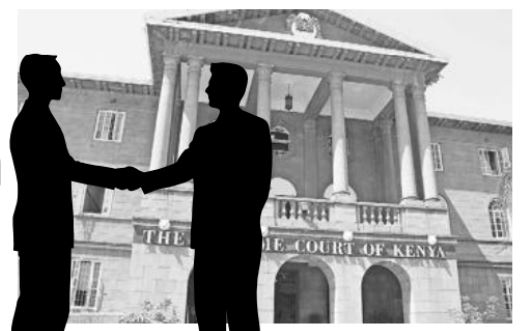 Parties in a case in which three clerics are suing their bishop for defamation have agreed to solve the defamation suit through mediation.
More than three years after the case was filed against Anglican Church Bishop Joseph Kagunda of the Mount Kenya Diocese, lawyers representing Kagunda and Reverends Paul Warui, James Maigua and Archdeacon John Gachau are to agree on mediators to spearhead the talks aimed at getting a lasting solution to the case.
Warui, Maigua and Gachau filed the case in 2015 against the bishop after he suspended them for allegedly engaging in homosexuality.
High Court Judge Abigail Mshila gave them a list of mediators in Nyeri County. The chosen mediators will hear the matter in private without being biased.
The case is among those that have been referred for mediation after Chief Justice David Maraga approved the Alternative Dispute Resolution (ADR) system pilot project introduced in the Judiciary more than two years ago. Mediation will see disputes that would otherwise be resolved by parties through advocates fighting it out in courtrooms solved on a win-win situation within a period of 66 days.
Since the new system was introduced in 2016, more than Sh3 billion that had been locked up in litigation was freed. A bigger portion of this came from settlements in the Commercial Division of the Judiciary. The cases were among 605 files out of 887 referred to mediation.
Among the cases was a three-year old civil dispute involving Sh50 million that was concluded in less than 40 days and the business relationship between the parties restored.
At the Milimani Law Courts where the commercial and family cases were screened and referred to mediation, a dispute touching on children before the Family Division was solved within an hour.
Maraga said most of the cases that have dragged on in court for years involve land and inheritance disputes that can be solved through communication and negotiation techniques.
Kisii High Court Presiding Judge David Majanja said courts in the area are handling a number of land disputes involving succession. "We have a backlog of cases, most of which are land disputes. Some of these cases are so old that children are born into the disputes complicating resolutions, and if we adopt mediationaggressively, we can address this challenge," Justice Majanja said.
The Article 159(2)(c) of the constitution allows ADR as a legal alternative to court proceedings. "Alternative forms of dispute resolution including reconciliation, mediation, arbitration and traditional dispute resolution mechanisms shall be promoted," it states.
So far, mediation has been rolled out in 10 counties after the pilot phase officially came to an end last year. A task force chaired by Justice Fred Ochieng is to see implementation of the new system in Mombasa, Kisumu, Nakuru, Nyeri, Kakamega, Embu, Garissa, Eldoret, Machakos and Kisii counties.
Judiciary Public Communication Assistant Director Jerusha Gichohi said registries have been established in the 10 counties where all civil and family matters filed are to be subjected to mandatory screening. If found to be suitable, they will be referred to mediation. "The mediation process does not deal with criminal cases," she said.
Once a case is found to be suitable for the process, a Mediation Deputy Registrar (MDR) is expected to nominate three mediators from the register of Judiciary's accredited mediators for parties to select from. Parties have seven days to state their preferred mediators. All communication during the process will be treated confidential.
The agreement signed at the conclusion of the mediation is to be filed with the MDR and enforced as a judgment or order of the court. If no agreement is reached, the case will be processed by the court in the usual manner.