Tourists stay away from polluted Fourteen Falls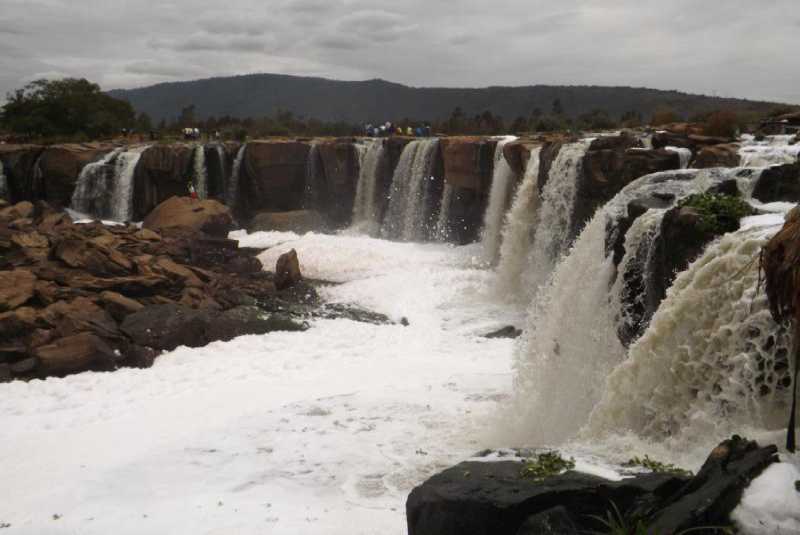 Until a few years ago, Fourteen Falls was a popular recreational site that attracted a large number of tourists.
Local and international visitors were eager to catch a glimpse of the natural wonder situated along Athi River near Kilimambogo Teachers Training College in Thika Town constituency.
Today, however, Fourteen Falls is a pale shadow of its former self, with its previously beautiful scenery and serene environment choking from pollution discharged by Nairobi residents.
When The Standard team visited the site, there was a pungent smell emanating from the water that is now black and foamy.
Tour guides stationed at the falls have been the hardest hit by the deterioration of their surroundings.
Fourteen Falls Tour Guides Association chairman Peter Njoroge said a sharp decline in tourist numbers due to the pollution menace had rendered nearly 100 youths jobless.
1,000 tourists
"We are really suffering because business has been totally affected. During the falls' heyday, we used to record about 1,000 tourists a day compared to slightly above 50 today," said Mr Njoroge.
The chairman said gone were the days when schools, churches and even companies would come for goat-eating, team-building and end-of-year office events.
Divers and boat operators have not been spared, as they too have suffered the same fate.
"I would comfortably make more than Sh3,000 a day from diving and boat-riding when the river was not polluted. Today, on a good day, I only make Sh200 and on bad days I go home empty-handed," said Eric Ochieng'.
He also said he was worried about his health because the water was so heavily polluted.
"I feel that I am no longer safe because I could easily contract skin or waterborne diseases. But there is nothing I can do since this is where I get my daily bread."
Other economic activities like fishing and farming along the river banks have also declined, if not stopped altogether.
Residents of Ngoliba and Maguguni villages, which are downstream, said they were worried by the contamination because the river was their main source of water.
"We are living in fear for our health since we rely on the river entirely for domestic use. Already our crops and livestock, which use the water, are either drying up or dying," said Ruth Wanza, a resident of Ngoliba.
Government delegations
Despite several high-powered Government delegations visiting the falls on fact-finding missions aimed at saving the tourist site from going to the dogs, nothing has changed.
"In the past, we have seen the Environment Cabinet secretary, Senate Environment committee, officials from the National Environment Management Authority (Nema) and Water Services Regulatory Board, among others, come here but the more they come, the more things remain the same," said Raphael Mwangi.
Residents are now appealing to the Government to intervene and stop the pollution because the river is their main source of livelihood. "We are certain that if the Government is serious enough, it can salvage the river from further pollution because it has the power to do that. What we have witnessed is laxity among officials of organisations charged with protecting the environment," said Irene Wangare, another resident.
County Nema Director Ann Macharia declined to comment on the matter, saying she was not allowed to speak to the media.
She only said the Water Regulatory Management Authority was the organisation in charge of fresh water bodies.
Kiambu Governor Ferdinand Waititu said his administration was committed to reviving the falls to increase revenue collection from tourists.
"We have secured the place by putting up a fence and we are currently cleaning the river. A hotel is being built at the falls and security is being increased
Agency wants logging ban lifted
Kenya Forest and Research Institute (Kefri) are lobbying for lifting of ban on logging of an invasive species to control its spread.