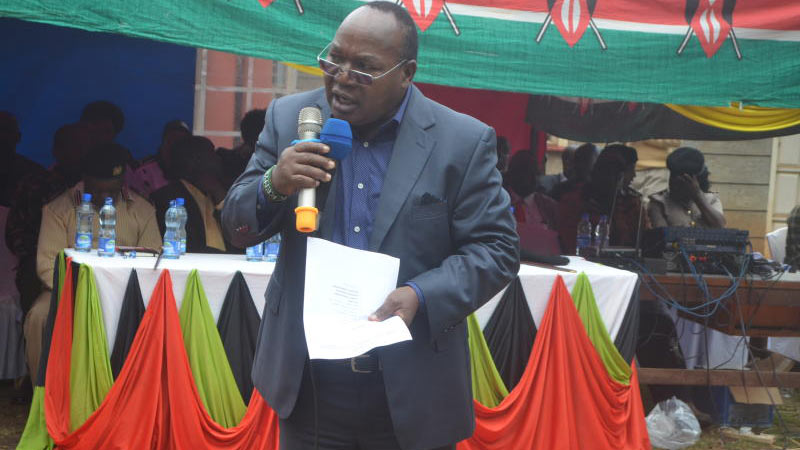 The government cannot arm Nyumba Kumi volunteers since their mandate in clearly spelt out, Central Regional Commissioner Wilson Njega has said.
Njega said arming this cadre of grassroots informers would be tantamount to creating a militia within the community.
He said their role within a given community was gather anything unusual and report to the area Assistant Chief or a Chief who have a structured means of having such information relayed to the relevant authorities for action.
"Your scope as Nyumba Kumi informants is limited to only identifying strange occurrences within where you live and as such you do not require a whip or a spotlight or anything else associated with provision of security, "he said.
The elders from Mwea East and West Sub Counties in Kirinyaga County had demanded to be supplied with whips, spotlights and air time in order to enable them contain the prevailing insecurity in the area.
Njega while reacting to the demands told the elders that they were not even allowed to conduct night patrols in their respective areas as doing so would be endangering their own lives.
The Commissioner who was in the area to address the recent shooting dead of two residents Ndindiruku village while two others were left with serous gun wounds on the eve of July 1 asked area residents to ensure they shared information with government agents based there .
"From now on if you have sensitive information, forward to the District Officer, Officers Commanding Station, (OCS), OCPD or a Deputy County Commissioner who will be answerable in the event of a leakage of such information to suspected perpetrators of crime,"he said.
The residents had told Njega they felt betrayed by some area law enforcing agents who allegedly end up leaking the shared security information with suspected criminals leaving them exposed for attacks.
Led by their Tebere Ward MCA Gudson Muchina, the residents also demanded that police officers who have over stayed in the area be transferred elsewhere for allegedly being collaborators with criminals.
Mwea MP Kabinga Wachira said all area boda boda operators will be required to be registered as a group for ease of identifying those who could be working in league with criminals.
He also asked the area Traffic Policemen to ensure no unregistered motorcycle was allowed to be on the road or engage in any business.