Kiambu bhang peddler attacks, injures four chiefs in botched raid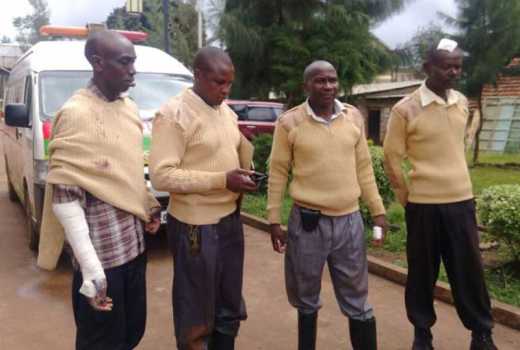 Four assistant chiefs are nursing various injuries after they were attacked by a machete-wielding bhang peddler during a botched raid.
The four administrators from Chania division in Gatundu South had stormed a home in Turiru village after a tip from locals.
The alleged peddler has been on the police wanted list for some time.
When neighbours knew he had returned home in the wee hours of the night, they alerted the area assistant chief who in turn notified his three colleagues.
James Kamami, the assistant chief of Mang'u sub-location, led Samuel Miring'u of Mukuruwe, Francis Muhia (Gatukuyu) and Joseph Kuria (Mitero) in a raid on the home.
"We had overpowered him and even handcuffed him and recovered five kilos of bhang. The suspect however raised the alarm, which attracted his brother who emerged from a nearby house wielding a machete and yelling at us. He rescued his brother and handed him another machete and together they started attacking us," Mr Muhia told The Standard.
Blunt object
Mr Kamami said he was hit in the ribs with a blunt object while Mr Miring'u was cut on the left thumb.
Mr Muhia suffered cuts on the head and right hand while Mr Kuria was cut on the forehead.
The chiefs were taken to Igegania Level Four Hospital and referred to Gatundu Level Five Hospital, where they were treated and discharged. It was not immediately clear why they raided the house without police officers as is normally the case.
A police officer who declined to be named because he is not authorised to speak to the media said the chiefs had not asked for police protection.
"They did not ask for our help and we do not know why. During such raids, chiefs and other administrators are supposed to be accompanied by police but we are shocked because they did not inform us in this case," said the police officer.
When The Standard visited Turiru village yesterday, residents were huddled in small groups and talking in low tones. Many were unwilling to speak on record, saying they feared being attacked by the suspected bhang peddlers who they described as dangerous.
Peter Kariuki, a resident, told The Standard the suspect dealt in narcotics.
"The suspect has been engaging in the business as far as I can remember. He normally sells the drugs from his home. People come to buy them and sometimes hawk them in the village," he said.
The two brothers are still on the run.
Gatundu North Deputy County Commissioner Fredrick Muli said police were looking for them.
"We will spare no efforts to ensure that the area becomes free of drugs and illicit brews. Those engaging in such business should know that the long arm of the law will soon catch up with them," he said.
He appealed to locals to volunteer information.