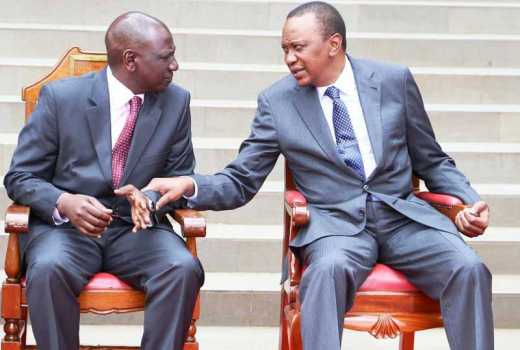 Jubilee Members of Parliament (MPs) have blasted the Government over
disobedience of court orders.
The Jubilee MPs on Friday weighed in on the defiance of court orders especially on the controversial deportation of the firebrand lawyer Miguna Miguna to Canada. Speaking in Meru, Senator Mithika Linturi and Buuri MP Rindikiri Mugambi praised the
High Court after Judge Luka Kimaru's ruling
that required Government to surrender Miguna's valid passport and also nullifying Interior CS Fred Matiang'i's order of deportation. The two legislators were critical of Jubilee's open defiance of the rule of law despite being sponsored by Jubilee Party.
SEE ALSO: Deep State? That's you, Raila responds to Ruto
The Government has, however, filed a notice of appeal to contest Justice Kimaru's ruling
saying the return of Miguna in the country is not in the best interest of the nation. "Whether an officer, whether a minister, whether a police officer or whoever - you say that you will not be bound by a court order…this we must say no to. We can't allow! We cannot just sit down and allow Kenya degenerate into anarchy. "If there is anything else that we are willing and we are ready to fight for is the independence and non-interference with the Judiciary because when Kenyans lose confidence in the Judiciary, it is just setting a stage for anarchy and for chaos in this country," said Senator Linturi. Buuri MP Mugambi echoed Linturi's sentiments saying that no one is above the law and the Constitution is supreme. "The freedom that we have been given by the Constitution will not be misused by either side. No other positions that we hold will now start interfering with other arms of the Government," said Mugambi.
SEE ALSO: Baba: Reggae was on 'half-time'
The High Court on Thursday declared the decision to deport Miguna as illegal. In his ruling, Judge Luka Kimaru said that at the time the fiery lawyer was deported, IG Joseph Boinnet and DCI George Kinoti were in contempt of court orders. He also ordered the Director of Immigration Gordon Kihalangwa to surrender his revoked passport to the court within seven days. "CS Matiang'i declaration of Miguna Miguna as a foreigner and consequent deportation is declared null and void," Judge Kimaru ruled. The fiery lawyer had filed a suit at the High Court through veteran counsel John Khaminwa seeking to quash the deportation orders and reinstate his citizenship.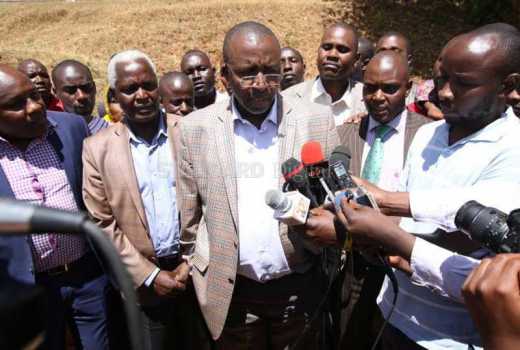 SEE ALSO: I will deliver on my pledges, Uhuru says
The Jubilee Party in a letter on February 9, accused the Judiciary of being controlled by the National Super Alliance (NASA) and making decisions based on ethnic inclinations.
Jubilee Party Secretary General Raphael Tuju to Chief Justice David Maraga
, the party alleged open bias against Jubilee in the run up to the August 8, 2017 election. A judiciary stamp indicated it was received on February 23, 2018. Tuju further accused the Judiciary of almost succeeding in burning the Country after the August 8, 2017 elections claiming the decision to nullify the election of President Uhuru Kenyatta was the biggest indictment of the Supreme Court. "When the Supreme Court ruled to nullify the August 8 elections with the argument that process was just as or even more important than the numbers, we disagreed. It was a ruling that has no precedent in the world and even the Commonwealth where our legal system borrows from," read part of Tuju's letter. It added, "Two of your Supreme Court judges articulated their dissent. Since then, lower courts have ignored the precedent that you set by that ruling and are throwing out election petitions with the argument that is converse to the basis of your nullification of the August 8 election". ALSO READ:
https://www.standardmedia.co.ke/article/2001269920/jubilee-lawmakers-disown-tuju-sentiments-over-judiciary-biasness
Tuju mentioned eight cases in trying to justify his claim that the Judiciary was being controlled by Opposition-sympathetic judges and those whose loyalty was first to the tribe and not to the law and principle of fairness. In August 1, 2017 Tuju had written to Maraga over concern of recently transferred High Court judge Odunga's relationship with NASA chief polls agent James Orengo, asking that he be removed from all August 8 election cases. "It was recently revealed that Justice Odunga is related to Siaya Senator James Orengo yet the judge has presided over numerous cases where Orengo is retained as advocate," the letter said. Chief Justice Maraga, however, came to the defence of Justice Odunga saying the Judicial Service Commission and Judiciary would not be cowed by intimidation. ALSO READ:
https://www.standardmedia.co.ke/article/2001269933/jubilee-attack-on-the-judiciary-is-a-scheme-to-remove-chief-justice-says-nasa-lawyers