Former President Mwai Kibaki says goodbye to bosom friend of 56 years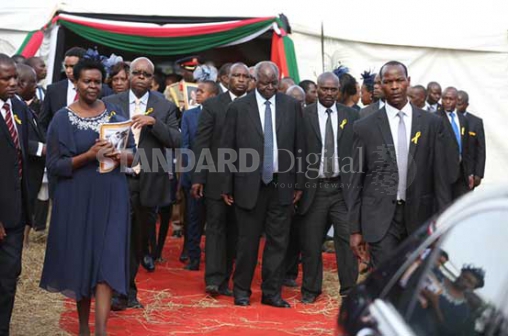 When the casket bearing the remains of former First Lady Lucy Kibaki was lowered into the grave in Othaya yesterday, one man was left carrying the heavy weight of loss.
He never spoke through-out the elaborate funeral service at the Othaya Approved School's grounds and neither did he speak at the requiem mass at Consolata Shrine in Nairobi on Wednesday.
Looking forlorn for the better part of the two ceremonies, former President Mwai Kibaki cut the image of grief, the loss of a partner of 56 years hard to bear.
He never betrayed his loss to the emotions though, remaining stoic all through and taking it in like a battle-hardened soldier.
His beloved first born child Jimmy however, betrayed him to the mourners: "Our Mum's death has affected and struck Dad the hardest.
But we want to tell you Dad that you have four strong children by your side and beautiful grandchildren to cheer you on."
Head of Anglican Church Archbishop Eliud Wabukala also noticed how downcast the former President was and cheered him on. "I know how you encouraged me on when I was in a similar situation a few years ago, and how you stood by me with your family. I am here today, with my family to stand by you and to help you overcome the loss.
From beyond the borders, former Tanzanian President Jakaya Kikwete was by Kibaki's side in Othaya to condole with him.
He said President Pombe Maghufuli and the people of Tanzania stood with Kibaki and his family in their difficult moment. President Uhuru Kenyatta also asked Kibaki not to feel lonely and instead draw support and courage from friends and family.
Kibaki's friend from the days of Makerere, Nick Muriuki recalled how they both "fished" their wives from Kambui and committed themselves to them. He said the death of Lucy had equally hurt him and his family.
Muriuki said Lucy had supported her husband at family and political levels all through the years and her exit is therefore a painful one.
"We celebrate her life-long dedication to family and her husband. What else would you expect from a loving wife, mother and friend other than support of the kind offered by Lucy?" he posed.
Robbed of one constant of his life in retirement, Kibaki will now have to find solace in children, grand-children and old friends like Muriuki.