Al Shabaab member surrenders in Kirinyaga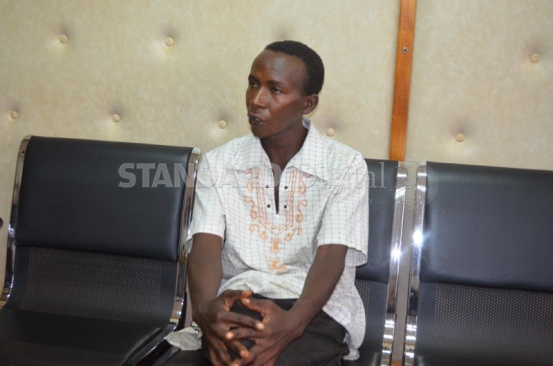 A self-confessed member of Al Shabaab has surrendered to security agents in Kirinyaga County.
Solomon Kamau Osman, 29, claims he was forcefully recruited in 2010 and fled from the militia's base in Somalia after serving one year and four months.
He surrendered to the County Security Team a week ago but the matter was kept secret until yesterday morning when he was paraded before the media in Kerugoya.
Mr Osman, who is originally from Nakuru, surrendered after Interior Cabinet Secretary Joseph Nkaiserry announced an amnesty and promised there would be no victimisation.
County Security Committee Chairman Kutswa Olaka said Osman would be handed over to Islamic Imams for counselling and guidance.
"Since Osman has voluntarily surrendered following an amnesty declared by the Government, we have no option but to thank him for the gesture and appeal to Muslim clerics to accept him and offer him the necessary counselling and guidance to enable his integration into the society as a useful citizen," Mr Olaka said.
Osman said he was looking for employment in Mombasa when bumped into a group of men who immediately bundled him into a lorry. Inside the vehicle, he claimed to have found eight other men, and they were all sprayed with a liquid that caused them to lose consciousness.
They woke up in a dimly lit room in Somalia, he said.
Osman said they stayed in the room for a week before being transferred to another location for martial arts training. "After this stage, we were taught how to use AK-47 rifles and told Kenya was the targeted enemy since KDF (Kenya Defence Forces) had invaded Somalia," he said.
The man also claimed they were promised a salary of Sh75,000 but he only received the money for three months.
"After the cash ran dry, I started working out how I could escape and through thick and thin, I was able to find a speedboat that dropped me in Lamu."
Osman said he living in fear of being tracked by the militants. Olaka assured him of maximum protection from the Government.