By JOHN NJIRAINI
The United States has unveiled new look $100 notes to stay ahead of counterfeiters.
The new bills, dubbed the "next generation one hundred", come with advanced and new security features aimed at making it difficult to counterfeit, but retain the traditional look of US currency.
The $100 notes, which are being unveiled worldwide due to the fact that the US dollar is also the global currency, are set to hit the market on February 10, next year.
The old bills already in circulation will remain as legal tender until they wear out.
Read More
"The US is committed to maintaining the integrity of the $100 note due to the wide circulation and this is why we want to make it difficult to counterfeit," said US Deputy Chief of Mission in Kenya Lee Anthony Brudvig.
The $100 is the highest value denomination currency in the US.
Fake cash rackets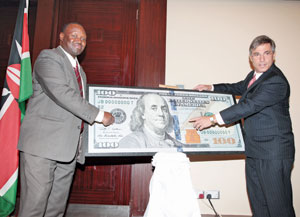 Central Bank of Kenya's Director of Currency Operations & Branch Administration James Teko Lopoyetum (left) and the Deputy Chief of Mission US Embassy Lee Anthony Brudvig point to the enhanced security features shortly after unveiling the new look $100 note.

The unveiling of the new design $100 notes comes at a time when Kenya is grappling with an increase in currency counterfeiting and fake cash rackets.

Just on Wednesday, police impounded over Sh6 million fake cash when they raided a slum in Majengo, Nyeri.

It also comes only weeks after KTN exposed the techniques employed by currency counterfeiters who seem to be getting shrewder by the day in an Inside Story series dubbed 'Money Mirage'.

According to Brudvig, two thirds of the approximately 6.5 billion $100 bills are in circulation outside the US, something that makes the bills prone to counterfeits. However, only one per cent of counterfeit cases are reported.

"Counterfeiting is a global phenomenon and the new design incorporates the best technology to ensure we are staying ahead of counterfeiters," said Brudvig.

Security features

The redesigned $100 note includes two new advanced counterfeit-deterrent security features in addition to features from the old bills.

The features are easy for consumers and merchants to check when verifying authenticity.

The unveiling of the $100 note design marks the culmination of the second round of US currency redesigns that commenced in 2003.

Over the past seven years, the US has new look $20, $50, $10 and $5 bills all in the efforts of making it impossible for counterfeiters.

The first round was carried out between 1996 and 2000 and saw the redesigning of all US paper money.