The cost of Uhuru talks with Trump, May and China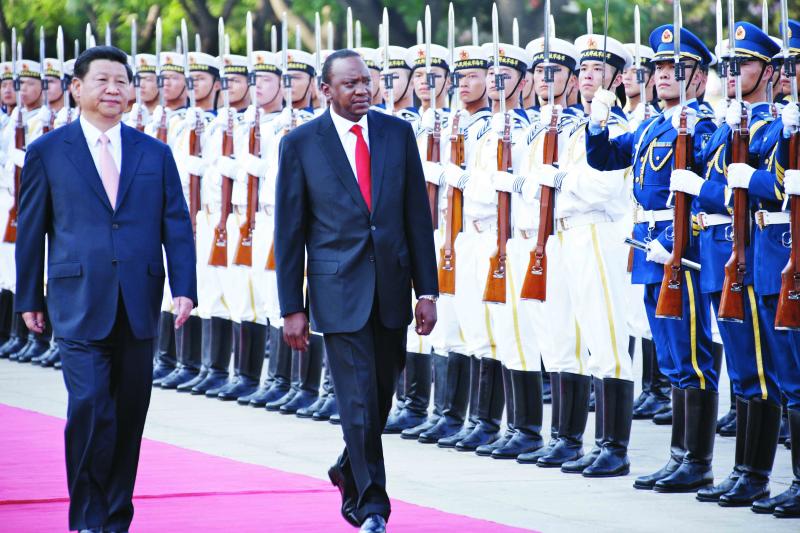 President Uhuru Kenyatta flew out of the country last night for the first of three high-level meetings with leaders of three most powerful nations.
The President leaves behind a worrying sharp rise in the cost of living, a country sinking in foreign loans, a spiraling debt crisis and building push back on the war on corruption.
In a month, President Kenyatta will hold high level diplomatic meetings with the leaders of the US, Britain and China, talks that could ignite a fresh war of supremacy between the three nations on their clout over Kenya.
Britain, which is about to leave the European Union, is looking for a launch pad for better relations and trade deals with Africa, US President Donald Trump wants to improve his battered image in the continent while China is interested in advancing its cheque book diplomacy.
'Bags of goodies'
The three nations badly need Kenya's to advance their foreign policy in Africa. But in reality, the three powers will most definitely extend bags of goodies, some of which through helpful, will come at a huge cost to the public.
The government is in dire need of money to finance Uhuru's Big 4 agenda but at the same time needs to bring down its fiscal deficit as demanded by the International Monetary Fund (IMF).
The imbalance of imports vs exports stood at 9.1 per cent last year. Treasury wants to push it down to 7.2 per cent through raising revenue by removing tax exemptions on petrol, diesel, kerosene, sugar and confectionaries starting from the end of next week.
On Monday, Uhuru will meet President Donald Trump, making him the second African leader after Nigeria's Muhammadu Buhari to be invited to the White House.
Foreign Affairs Cabinet Secretary Monica Juma landed in the US on Thursday with an advance party to lay ground for the visit.
On the same day, Juma held a short meeting with US Secretary of State Mike Pompeo in Washington followed by a photo session, but no statement was released. The CS also addressed the American Society of Travel Agents at a reception hosted by Kenya Airways to popularise the launch of direct flights between Nairobi and New York.
"She emphasised the meaning of the people-to-people exchanges in redeeming the value of adventure, business and education," the Ministry of Foreign Affairs said in a tweet.
After returning from the US, President Kenyatta will next week on Thursday meet British Prime Minister Theresa May in Nairobi on her first visit to Africa since coming to power. It is expected that Nairobi will be pushing for the establishment of a British Visa processing centre in the country.
After that, the head of state will fly to China for the Forum on China-Africa Cooperation (FOCAC). From China, President Kenyatta will leave for New York to attend the United Nations General Assembly (UNGA). He has not attended the annual conference for the last two years.
Although the President has been on a roll courtesy of his renewed dedication to fighting corruption, Kenyans will be watching to see what deals he cuts for the country.
China has already given an indication of what will be inside its goodie bag after it approved a Sh380 billion loan for the construction of phase 2B of the Standard Gauge Railway (SGR) that will take it from Naivasha to Kisumu.
The deal will be signed in Beijing between September 1 and 4 on the sidelines of FOCAC where all African Heads of State have been invited. UN Secretary General António Guterres has confirmed attendance.
"The summit will set a new path for a higher level of China-Africa cooperation, and deepen people-to-people exchanges," China has said ahead of the summit through its State Councilor and Foreign Minister Wang Yi.
"We believe that with the joint efforts of China and Africa, the Beijing summit will be a great success and establish a new historical monument of China-Africa friendly cooperation," said Wang.
In Nairobi, the government is upbeat about the Sh380 billion it is going to receive to link the SGR to Kisumu as it believes the new railway to the port city is key to unlocking its full potential. While in China, Uganda is also expected to ink a Sh230 billion deal for its segment of the SGR from Kampala to Kisumu. This will finally complete a 1,200-kilometre circuit of the line from Mombasa to Kampala that Kenya and Uganda have been yearning for.
"The Mombasa-Nairobi phase cost Sh327 billion, the extension to Naivasha cost Sh150 billion and the final phase will cost Sh380 billion. This will be the main artery of Kenya's key development corridor," said Transport Cabinet Secretary James Macharia.
Cost of living
When complete, the SGR will have cost Sh857 billion. The interest that taxpayers will pay China beginning this year will push the total cost to over a trillion shillings.
Taxpayers already owe local banks, foreign organisations and other countries a staggering Sh5.01 trillion, most of which is non-concessional, which means it is has to be paid back at market rates. The Uhuru regime has borrowed Sh3.7 trillion of the Sh5.01 trillion and not only intends to borrow more but also tax Kenyans heavily to repay.
This is partly why the price of petrol will hit Sh130 next Sunday while sugar and confectionaries also hit the roof.
For economists, their key concern is why the government is raking up more expensive to repay commercial debt while cutting down on cheaper multilateral debt. It is a question Treasury has never answered satisfactorily.
"Obviously, big spending by Treasury on repayment of debts means we are allocating a huge portion of our budget on recurrent expenditure, leaving very little on development which means the government has to borrow more," said Dr Samuel Nyandemo, an economics lecturer at the University of Nairobi.
"While the many infrastructural projects will certainly be good to the economy in the long run, they have unfortunately been used to enrich some individuals which defeats the purpose of all these borrowing," he explained.
Genghis Capital, an investment bank, recently forecast that Kenya's debt servicing could take up to 51.56 per cent of revenue in this financial year, up from 40 per cent last year. This huge jump will exceed the 30 per cent debt sustainability threshold set by the IMF.
It is also the reason why the international lender is breathing down the neck of the government over fiscal indiscipline and high intake of loans. It will therefore be interesting to watch what Uhuru get from the US and UK in order to create a trade balance Kenya badly needs.
The US has however shown that it is determined to bulldoze itself and get a seat at the table of Kenya's big projects, which is currently uner the control of China, with Japan on the sidelines. A case in point is the proposed Sh380 billion express way from Nairobi to Mombasa that will run side by side with the SGR.
Critics have pointed out that it is not necessary to have a new road serving the same purpose with the SGR, but Nairobi which is already borrowing Peter to pay Paul in order to settle its debts, is determined to push through with the project.
In return for the expressway, donor aid from Washington will keep flowing but this is subject to debate since Trump has been cutting foreign aid to Africa. So far, the US remains the leading aid donor to Kenya. China surpassed it as a trade partner in 2010.
Kenya is one of the largest recipients of economic aid from the US. Last year, the country received $632 million (Sh65.1 billion) as economic aid and $468 million (Sh48.2 billion) for other programmes such as HIV and Aids management, energy, fight against terror and agriculture. The US has also injected billions of shillings into Kenya's battle against terrorism, which the country is keen to maintain.
While announcing Uhuru's visit to the White House, Washington said "the meeting between the two leaders will reaffirm the long-standing relationship between the US and Kenya as a cornerstone of peace and stability in Africa and the broader Indo-Pacific region."
Biggest creditor
The US is also the second largest buyer of Kenyan products after Uganda. Last year, Americans bought $574 million (Sh57 billion) worth of Kenyan goods. America's imports from Kenya include coffee, titanium ores and textiles through the duty free trade pact - the African Growth and Opportunity Act (Agoa).
On the other hand, China is Kenya's biggest creditor, having advanced to us Sh520 billion ($5.2 billion) for the period ending December 2017.
The Asian super power is also Kenya's largest exporter. At least Sh400 billion worth of goods from China get into the Kenyan market annually, while the Asian nation takes in a paltry Sh8 billion worth of products from Kenya every year.