Graduate perfects delicate art of growing hydroponic fodder in Nairobi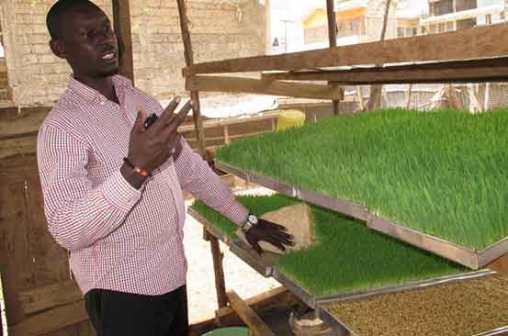 When Smart Harvest visits Samuel Mbugua at his farm, he is busy tending to his hydroponic fodder at different days of growth in his Grandeur Africa Ltd farm in Mwiki, Nairobi County.
While other young graduates are lamenting being jobless, the 29 year-old has already made his first million from his farm.
"My farm has been my office since 2013 when I quit my job to venture into pig rearing," says Mbugua.
He settled on pigs because of their fast rate of growth and maturity, the furrows give birth to many piglets and have a ready market. Now stable, his journey from office job to farming has been a real learning curve.
After graduating from the University of Nairobi with a degree in Biochemistry in 2009, Mbugua says he got an OK job in Nairobi.
A few years into it, he realised employment was not fulfilling.
"During employment l kept asking myself, suppose l had 200 pigs, wouldn't l be more wealthy and managing my own investment!," he says.
Two years later, he quit.
The first seed
Armed with Sh150,000 savings, Mbugua started with 15 pigs.
A long the way, his biggest challenge was buying feeds. He did his Math and realised each pig was eating feed worth Sh40 per day, totaling to Sh600 for 15 pigs.
Even before he could hack a solution, something worse happened.
The 2013/2014 Budget was read and with it came the tax increase on animal feeds.
Mbugua resolved to start preparing his own feeds to cut production costs.
"I started researching and reading materials about making my own feeds. I stumbled upon info on growing hydroponic fodder from wheat or barley which matures in eight days," he says.
Mbugua settled on hydroponic fodder because it grows pretty fast.
That settled, his next headache was where to get either wheat or barley. After several inquiries he was directed to Narok, where he bought 10 bags that cost him Sh36,000 including transport.
Breakthrough
His woes did not end there. When he finally found the raw material, the next big challenge was growing it perfectly.
"I was using makeshift equipment and some grew moulds which was dangerous to livestock. I suffered losses because I had to buy more wheat and barley to start," he says.
After several hits and misses, he finally got it right.
"It was a breakthrough moment because l reduced cost of feeds by 40 per cent. It is purely protein and I was only buying supplements," he says.
He did his research and learnt how to make proper hydroponic structures.
Within no time, his farm was a breathtaking view with fodder growing on the many structures. Visitors, started streaming in.
"In a day, l would get more than 100 people coming to see what was happening. Everybody wanted lessons. Everybody wanted my hydroponic structure."
Right there, he saw a business opportunity.
"I started charging for farm visits and consultations. I also 'enrolled' a number of farmers who wanted training on growing hydroponic fodder. That earned me extra cash," he says.
He also started selling the structures which further boosted his income.
Every Saturday, he has at least 20 trainees whom he charges Sh10,000 for a comprehensive three-day course. So far, he says he has trained over 10,000 farmers and counting.
Ten thousand, that's huge, what's his secret?
"I do not just train, I also do follow ups and ensure all my trainees are experts. I follow them through the journey," he says.
His clientele base stretches as far as Uganda, Tanzania, Rwanda and West Africa.
Meanwhile, another business opportunity has opened up.
The farmers he has trained started making orders for barley seeds.
Mbugua buys in bulk in Narok and sells to farmers at a profit.
The farmer has also perfected the art of preparing barley seeds.
He begins by soaking the seeds for four hours, then drain till they are dry. He then incubate/pre-germinate the seeds for two days.
"This helps to increase chances of germination," he explains.
He then transfer to trays where they continue to germinate and grow, as he waters three times a day.
The stages of growth depends on the animals. For cows, goats and sheep, it takes eight days. Rabbit and pigs take six days and poultry four.
They are fed on livestock while still green because of paleatability. However, for rabbits it is better to dry for six hours before feeding them.