Shades: Changing outdoor spaces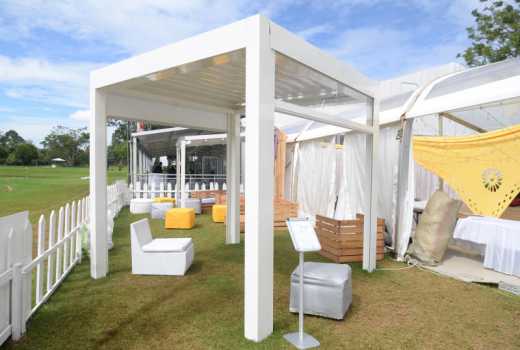 When the Barclays Kenya Open event was going on, those looking to relax headed to luxurious tents. Inside one of the tents was Proshade team, the people behind the concept.
"Many people are looking forward to prepare and revitalise their gardens ready to enjoy living to the full around their homes or any living spaces," says Proshade Managing director Moses Mburu.
"There is nothing good like the ambience of being outside. However, sometimes the unpredictable weather can spoil and dampen the use of the terrace or gardens," he says.
A closer look at homes, offices and leisure spaces shows new approaches to outdoor spaces.
We visited Aleem Ladak, the big Five Breweries Limited Director who runs Brew Bistro, a Nairobi upmarket restaurant in Westlands to get a feeling inside the versatile Corradi shading systems in their establishment. Ladak tells how the Italian made outdoor living space shades have transformed his place.
A closer look indicates shows that the shades have a focus on technology and detail.
Ladak says, it shows the extra mile the outdoor living space providers are going to give value for this service: "The Corradi shades at Brew Bistro are an outright inspiration of a typical Italian mindset; we believe that functionality is almost worthless without beauty. And here, we have brought it home."
Ladak says louvered roofs that are also finding their way into the market are innovative and designed to enhance the best of people's lifestyle.
He says, outdoor service providers are largely working on detail while ensuring there is a wide range of ambient accessories which include: LED lighting, inbuilt gutters, retractable roof, inbuilt lighting and rain sensors that are able to open and close down as one enjoys their garden all year round in whatever whether.
But isn't it costly to acquire them? Eric Kinoti, managing director, Shade Systems East Africa Limited, says that although many perceive this service to be expensive, it depends on what you want. He says shading systems vary in size and versatility.
Some shades can cost Sh5,000 for a square metre. "There are so many shading designs that are offered in the market. The more innovative and user friendly they get, the more costly they become," Kinoti says. He says some shades have become more customised, automated and energy centered. For these packages, people may pay more.
"A well customised Gazebo shade in the market for instance can range between Sh300,000 to Sh500,000. However, one can find one that costs for as low as Sh100,000 or Sh50,000 depending on the size," Kinoti says.
"Apart from the developers warming up to this, there is going to be partnerships between outdoor living service providers and exceptional products providers to decorate and accessorise outdoor living spaces," says Hannah Kiragu, a contractor.