'Local firms register late for expos, miss good spots'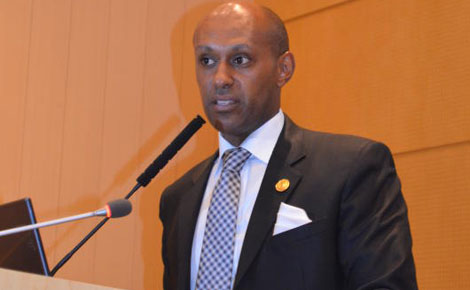 Skander Negasi
Skander Negasi is the CEO of Trade and Fairs East Africa Limited, organisers of CIBEX East Africa Fairs. AUSTINE OKANDE spoke with him on his mission, and the challenges and opportunities in the international exhibition sector
1. Trade and Fairs East Africa Limited (TFEA) is an affiliate of Messe Frankfurt Exhibition GmbH, the world's largest trade fairs organisation. What prompted its establishment?
The building and construction industry has been booming across Africa. TFEA setup its offices in Nairobi to promote international trade fairs and conferences while at the same time acting as a link between local and international investors.
2. What informs a good exhibition?
Exhibitors and show organisers use different approaches to attract the crowd. A good exhibition is one that provides a pleasant platform for attracting potential buyers.
3. Some players in the construction industry argue that exhibitions add little or no value to their operations and that they are mere money minting ventures for organisers. What is your take on this?
It is through such fairs that local exhibitors attract regional buyers. How would any potential buyer know about a company if they do not showcase their products and expertise at an exhibition?
A website is not enough as real trade requires one-on-one communication. Exhibitions also provide a perfect platform for local investors to find international partners.
4. Since its establishment, what have been the successes of TFEA in the country?
Today, TFEA is a key player in the East African trade fairs industry. With its many years of experience and international network, many exhibitors at our events have received new local, regional and international buyers.
Through our private business-to-business (B2B) meetings, many have managed to form business partnerships.
5. What should exhibitors consider before booking an exhibition space?
First, the exhibitor should establish whether it is the right event. This information can be found through the product group mentioned in the registration.
They should also evaluate who is targeted by the exhibition and find out how relevant the targeted clientele is to their business.
6. What does your recent partnership with Kenya Federation of Master Builders (KFMB) entail and how will it benefit the construction industry?
KFMB and the National Construction Authority (NCA) are key partners for CIBEX East Africa events in Nairobi.
It is a mutual partnership; we provide a platform where KFMB and NCA can interact with members and potential members. Through such platforms, we help bring about high standards in the construction industry.
7. What challenges have you faced conducting international exhibitions in the country?
The major challenge with local companies is late registration and when they finally register the best spaces are often sold out, mostly to international exhibitors.
The international exhibition industry in East Africa is still young and a lot of companies are not used to this kind of promotion yet.
8. What can Kenyan exhibitors borrow from international fair organisers and what are some of the emerging trends in the market?
Every case is unique; therefore, local and international exhibitors can often learn from each other. Increasingly, companies are opting to participate in exhibitions to promote their products.
9. Phony exhibitors have been reported in the industry. How do you ensure that you do not end up with rogue outfits at your events?
We do not have phony exhibitors at our events. Through vetting, we are able to identify and weed out questionable exhibitors.
10. Your next exhibition is slated for February 26-28, 2015. What should we expect?
We are expecting several government pavilions from Germany, Turkey, Belgium, France, China and Japan. We will also host over 100 well-known, international companies from over 20 countries.
Investment delegations from Europe and the United States will also attend.
Construction of lawyers' convention centre on course
Plans to construct the Sh1.2 billion International Arbitration and Convention Centre in Nairobi's South C Estate is underway after the High Court in Mombasa and Nairobi dismissed two separate cases filed by disgruntled Law Society of Kenya (LSK) members.