Gumbo and Owino team up against Orengo for Siaya governor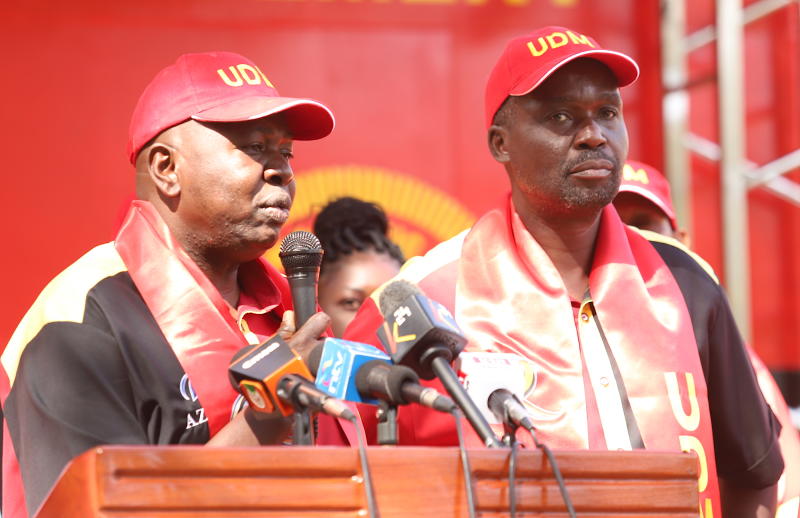 Siaya governor race took an interesting twist after former Rarieda MP Nicholas Gumbo and former police spokesperson Charles Owino teamed up against Senator James Orengo – the presumptive ODM candidate.
The duo yesterday pulled a surprise by having Owino drop his ambition for the top county job and instead declared support for Gumbo.
Gumbo will run for governor with Owino as his running mate. The two will now run on United Democratic Movement (UDM) ticket of Mandera Governor Ali Roba.
The deal is said to have been influenced by fears that ODM was planning to hand Senator Orengo the party ticket.
Owino had applied to contest for Siaya governor on ODM but jumped ship over fears of being rigged out in the primaries planned for next month.
The decision by the two is likely to drastically change political dynamics in the ODM leader Raila Odinga's home county given the two were perceived front runners in the race to succeed Governor Cornell Rasanga.
By coming together, the two politicians seek to combine their support base to ride against ODM wave in the region.
In 2017, Rasanga won his second term by polling 143,446 votes against Gumbo who got 87,467 as an independent candidate.
Yesterday, Gumbo expressed confidence in winning the seat after teaming up with Owino while claiming they command more than three-quarters of registered voters in the county.
"I can say without any fear of contradiction that we enjoy the support of three quarters of the registered voters in Siaya. By coming together, we are sure of victory," said Gumbo.
He said their coming together to run on a joint ticket will also ensure more voters are mobilised to turn up and cast their ballot in favour of Azimio presidential aspirant Raila Odinga.
The former lawmaker said locals had already started raising fears that they may not have opportunity to vote for their preferred aspirants due to interference by ODM which is the most popular outfit in Nyanza.
"Our coming together really is in one way of ensuring that Raila's stronghold like Siaya don't have voter apathy. Raila needs every single vote in Siaya, and this is what our coming together is all about," he explained.
Owino claimed ODM was likely to rig him out in the primaries in what would have occasioned voter apathy on August 9.
"The people supporting me and those for Gumbo have been complaining in the last two weeks, saying they were not going to vote for Raila if I don't get the ODM ticket," said Owino.
"I felt that we must support Raila and the reason for that has been to ensure Gumbo and I join hands and also join with other persons; that we are going to compete so that every registered voter turns out to vote for Raila," he added.
Raila has been rooting for consensus method in picking candidates in his strongholds to avert acrimonious fallout after party nominations.
Siaya county is one of the counties that was identified for negotiations after attracting strong aspirants for the governor seat.
Late last year, Ugunja MP Opiyo Wandayi, who had declared interest for the governor's seat, pulled out of the race after he was prevailed upon to drop bid in favour of Orengo.