Over 150,000 tonnes of cereals lost to locusts, says UN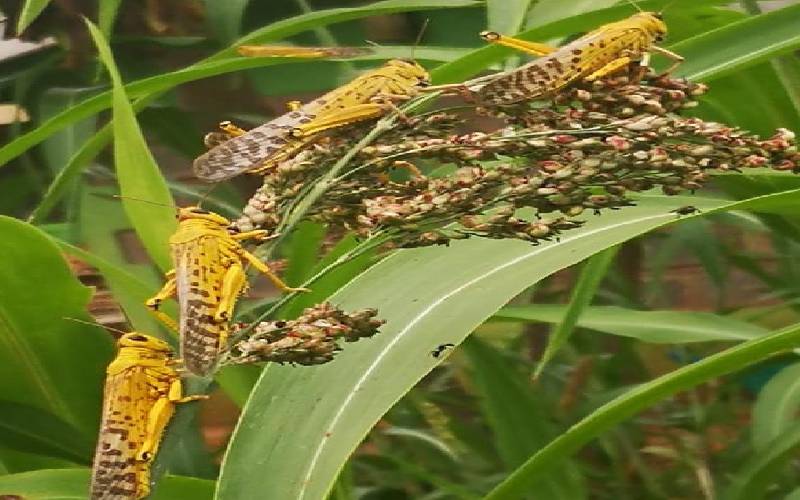 More than 100,000 farmers affected by the locust menace will receive tracking devices to monitor the migration of the insect.
The move is aimed at improving the country's disaster preparedness.
This comes a day after the State received a report from the Food and Agriculture Organisation (FAO) showing that over 150,000 hectares of agricultural land affected by the locusts had been sprayed, particularly northern Kenya.
The report, received by the Ministry of Agriculture, Livestock and Fisheries assessed the impact of locust invasion in 16 countries.
The loss, occasioned by the invasion of the pests was estimated to be more than 150,000 tonnes of cereals from November last year when the locust invaded the region to early March this year.
"Because of this effort of spraying fields that were likely to be affected by the locust invasion, we secured livelihoods of farmers who were staring at a possible total loss of their produce," said Dominique Burgeon, FAO's director of emergencies and rehabilitation division.
Despite Covid-19 pandemic and floods, desert locust surveillance and control measures have continued in earnest. The migratory pests have also been contained in four counties of Turkana, Marsabit, Isiolo, Samburu, down from the previous 28.
Agriculture Cabinet Secretary Peter Munya attributed the containment to effective aerial and ground spraying, as well as increased surveillance.
"As a ministry, we are building capacity to ensure we are not caught by surprise again. We have successfully trained and offered support to local farmers on how to tackle the invasion of locusts and how to contain the migration of this pest," Munya said. The country received Sh2.2 billion to fight the pest.