Limping KQ hopes to survive pandemic with more sackings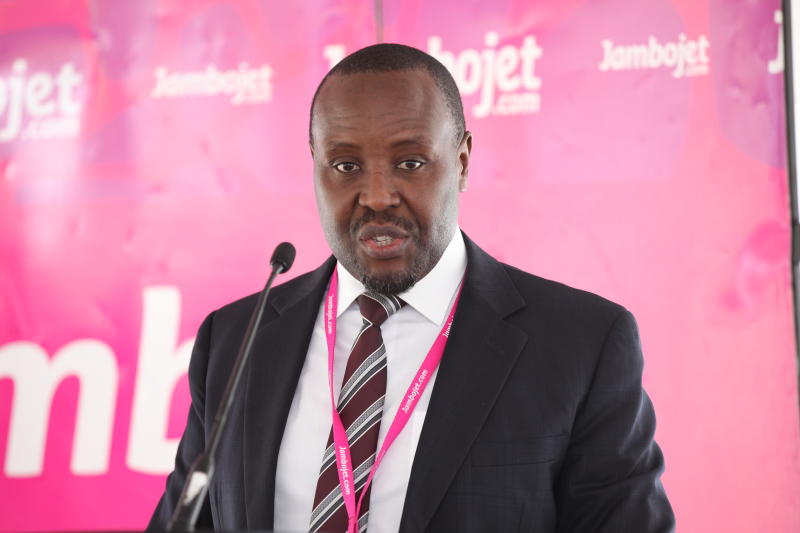 Kenya Airways (KQ) is set to lay off a substantial number of its employees as the effect of the coronavirus continues to bite.
The carrier on Friday wrote to its employees informing them that the company would over the coming months undertake a "rightsizing exercise" to enable it steer through the tough times.
In a communication to employees, Chief Executive Officer Allan Kilavuka said the airline has started a rationalisation process that it expects to complete by September 30 this year.
He added that some employees would be required to proceed on unpaid leave beginning tomorrow. It will however retain workers who will continue operating cargo flights as well as domestic flights, which it expects to restart operating soon.
"While we have all put in a tremendous amount of work to keep our business afloat, it has become increasingly challenging to fulfill our obligations and maintain operations," said Mr Kilavuka.
Our short and medium-term projections indicate that we must inevitably reduce our operations before we begin to scale up again."
He continued: "With the suppressed demand for air transport, a large part of our fleet will remain grounded. We will also operate a reduced network when we resume our services as we anticipate that it will take some time before the industry starts to rebound."
"Therefore, after a comprehensive review, a decision has been reached to carry out an organisation-wide rightsizing exercise which will result in a reduction of our network, our assets, and our staff. Effectively, we have commenced a phased staff rationalisation process, which we expect to conclude by Wednesday, 30th September 2020."
The airline in March announced pay cuts to employees with some of the employees then taking as high as 75 per cent reduction in pay. Kilavuka, who was then starting his job as the substantive chief executive, taking an 80 per cent pay cut.
The airline has been struggling for a number of years now, with the coronavirus adding to its challenges.
The Covid-19 pandemic has added to some of the major challenges that KQ has been battling for years, that have seen it report losses for nearly a decade now.
KQ reported a net loss of Sh12.9 billion for the year to December 2019, compared to a loss of Sh7.5 billion in 2018.
The plan to send home KQ employees has alarmed Central Organisation of Trade Unions (Cotu) Secretary General Francis Atwoli who noted that the carrier's leadership, especially at the board level, is at the centre of the challenges it is facing.
He singled out board chairman Michael Joseph whom he said adds no value to KQ and should be replaced. Mr Joseph is serving his second term as chair of the carrier.
"To modernise and create more employment opportunities at the organisation, government requires progressive and committed top managers led by an experienced and all-round chairman who operates an open door policy," said Mr Atwoli.
The latest development comes even as the government embarks on the process of nationalising the airline. On Friday, its shares were suspended from trading at the Nairobi Securities Exchange (NSE) for three months.
Its share price was trading at Sh3.83 by the time it was suspended from trading, having dipped to a low of 80 cents over the last year.