Kenyans puff on as debate on tax rages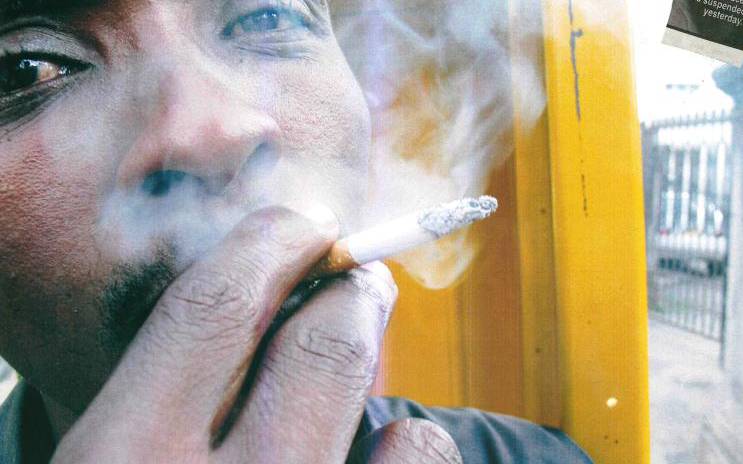 Smokers exchange pleasantries with him as they pick their favourite cigarette, and a Tropical sweet to camouflage their scent afterwards before he hands them a matchstick.
They then take the few steps to where other smokers are seated in a circle, puffing and blowing smoke to the air.
This is a normal Tuesday for Richard Karuri, a cigarette vendor at Jevanjee Gardens smoking zone in Nairobi County.
Karuri and his customers are oblivious of two parties lobbying President Uhuru Kenyatta for and against signing the Finance Bill, 2019 that will increase excise duty on tobacco and alcohol products.
Four non-governmental organisations are calling on the President to assent to the Bill as a measure to discourage the use of alcohol and tobacco products, especially for beginners.
International Institute of Legislative Affairs, Non-Communicable Disease Alliance, Alcohol Control Policy Network and Kenya Tobacco Control Alliance argue that signing of the Bill would be a step towards the reduction of health-related costs.
They say the money the two industries contribute to the economy is minimal compared to the cost of treating health ailments caused by the products.
"We need to balance what the industry is contributing to the economy against the health cost at an individual level and at the national level," said Emma Wanyonyi from the Institute of Legislative Affairs.
This comes on the background of amendments to the Finance Bill, 2019 by a parliamentary committee to increase excise taxes on alcohol and tobacco from 15 to 21 per cent.
On the other hand, alcohol and tobacco industry players have questioned the higher taxes, saying the Government will fail to rake in the additional revenue.
They argue that the move is ill-informed and goes contrary to the concerns they raised when they engaged with the ministry in July. This will only fuel illicit smuggling of the products, they say.
"This further proposed increase will only serve to make legitimate products even more unaffordable and Kenyan consumers more price-sensitive," read a joint statement by British American Tobacco, Kenya Wines Agencies Limited and Mastermind Tobacco.
If Uhuru assents to the Bill, the price of a pack of cigarettes will increase by Sh8 while manufacturers of wines and alcohol will see an increase by Sh181 per litre.
Spirit liquors will increase by Sh242 per litre, with the changes expected to start immediately the bill becomes law.
Treasury estimates the increase will net Sh4.6 billion in additional revenue.